Industry News
Horage Launches New K2 Micro-Rotor Movement, with an Unusual Production Plan
An original project, inviting partner brands to join forces and be part of a movement-making journey.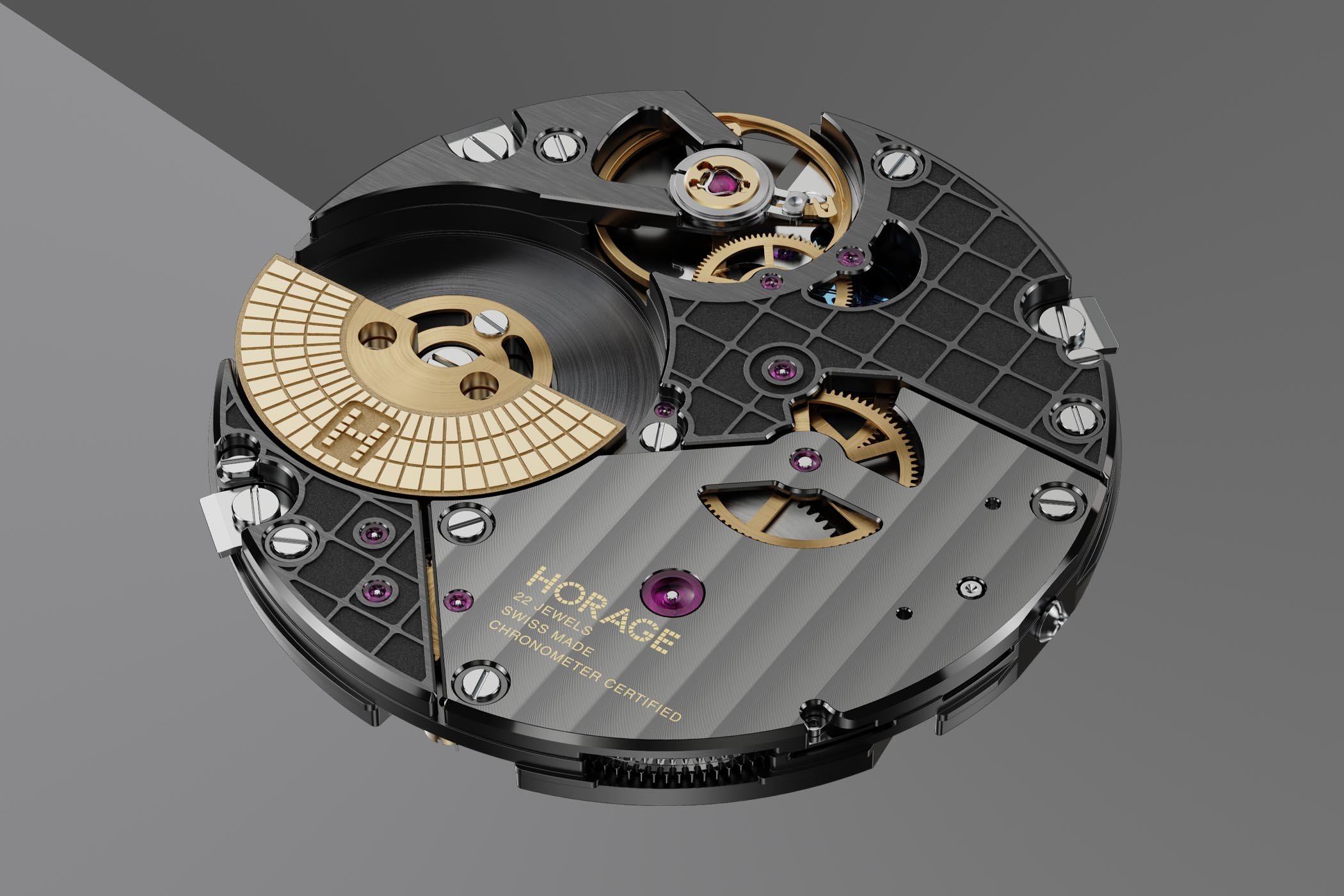 Horage is an original company within the Swiss watch industry. Based in Biel, the small brand ended up developing its own k1 automatic calibre, designed to be an efficient and reliable movement built on industrial production standards, but also to deliver the flexibility in complications and decoration of a "manufacture" movement. At their sister engineering firm, THE Plus AG, a small team develops and manufactures movements managing all assembling operations (from T0 pre-assembly) in-house. Building on this experience, Horage now unveils its latest movement project, a micro-rotor built on its core component tool kit. And Horage's plan to launch this new K2 movement is rather unusual.
For a long time, only a few watchmakers produced movements. Most of the industry was sourcing from the same movement manufacturers: ETA/Sellita for industrial movements and a few high-end companies such as Frédéric Piguet, Lemania, Zenith or Girard-Perregaux, to name a few. To ensure a steady supply of movements, boost their image and create products adapted to their needs, brands started to develop their own mechanical movements. However, these so-called manufacture movements can rarely be produced at the same price as industrial movements. Among other reasons, scales are critical…
Although it is not rare in other industries to see companies join forces and embark on common development and production projects, it is much less frequent in the watch industry. Horage is now initiating a joint manufacturing project by inviting partner brands to access its latest micro-rotor movement K2. 
Horage is seeking eight brands as venture partners to secure the new movement at acceptable OEM pricing. The way brands would be involved and benefit from this common platform is flexible. The K2 movement opens the door to brands with a desire to explore movement making, but with a lower financial risk. "Through hosted manufacturing each participating brand can secure their own intellectual property, develop their watchmaking infrastructure or simply have a source for their future movement production."
The K2 movement has been conceived as a modern and modular micro-rotor movement, available in different configurations, to drive different complications.  Measuring 30mm in diameter and with a thin base profile of just 2.9mm, the K2 runs at an unusual 3,5Hz frequency (or 25,200 vibrations/hour). If many modern calibres run at 28,800 vibrations/hour, this rather unusual frequency is regarded as the optimal compromise by Horage, in particular to offer chronometer accuracy while providing a comfortable 65h+ power reserve. The movement is fitted with a silicon escapement for enhanced efficiency. Horage has developed its movement components to be materially interchangeable. Pre-production will be produced with steel hairsprings; however, for final series production in 2023 silicon hairsprings will be put into use. 
Naturally, a multitude of standard decoration and functional options are available. Brand venture partners can further invest in and elaborate on decoration as well as complications. Skeletonisation, perpetual calendars or chronographs are all feasible options down the road. The K2 versions presented to brand partners are as follows:
2.9mm – Hours, minutes, small or centre seconds
3.3mm – Hours, minutes, small or centre seconds, and calendar
3.6mm – Hours, minutes, small or centre seconds, 12-hour or 24-hour GMT, power reserve indicator and calendar
The roadmap for Horage is now to gather and select partner brands by the end of 2020 with a minimum commitment of just 300 movements per brand. The first movement samples would be delivered in 2021 with final serial production starting and delivering in 2023. 
For more information about Horage and THE Plus please visit www.horage.info, www.theplus.tech or email [email protected] for specific information about the K2 movement project.
https://monochrome-watches.com/horage-launches-new-k2-micro-rotor-movement-with-unusual-production-plan/