First Look
The Grand Seiko Heritage 44GS Sensu-Inspired SBGW297 and SBGW299
A new duo of compact hand-wound GS watches with dials inspired by Japanese fans.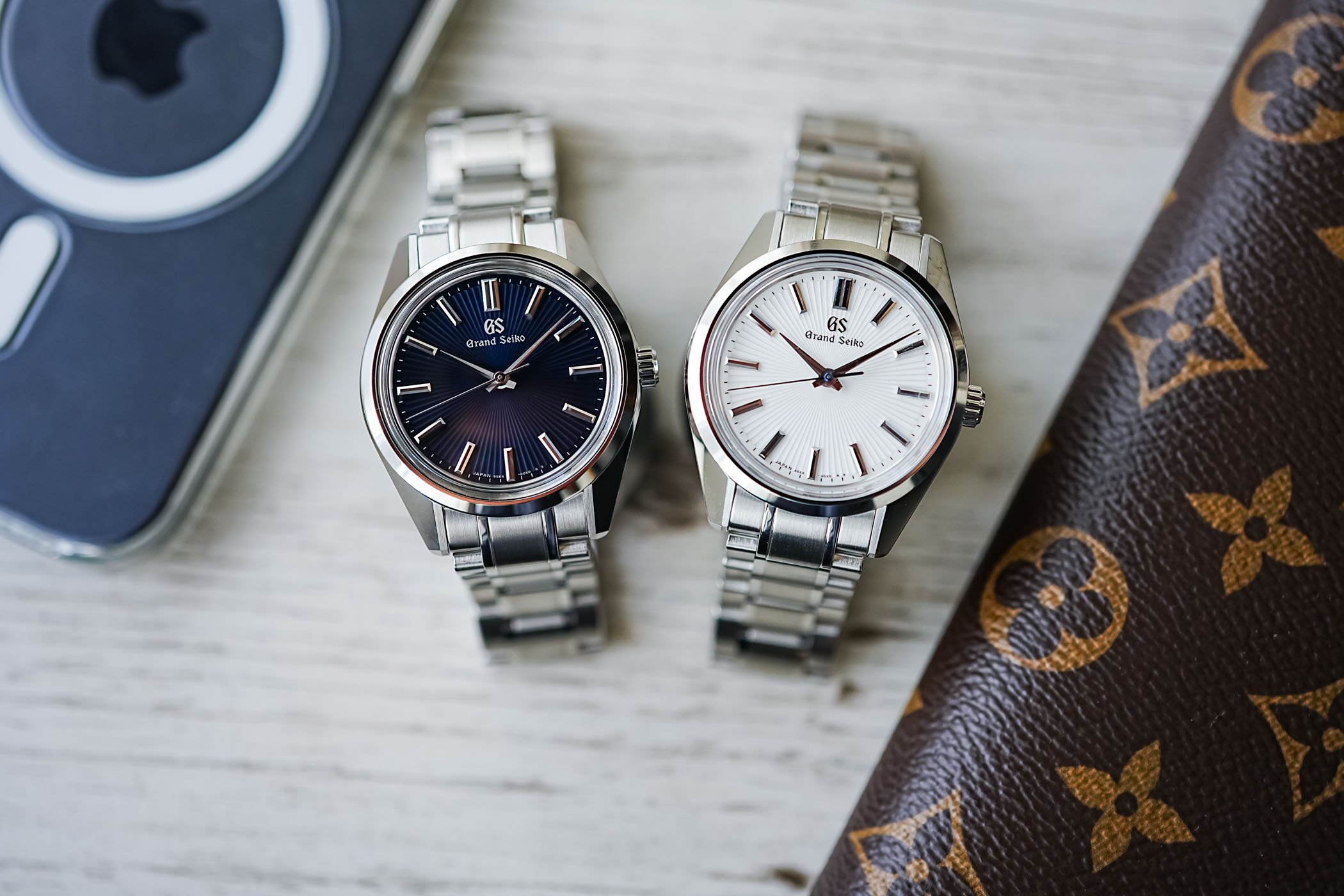 It won't come as a surprise to say that most of the current watches produced by Grand Seiko are profoundly inspired by their country of origin, Japan. Whether it is depicting dials modelled after the country's landscapes, crafted according to traditional crafts, or simply representing local culture, this is one of the elements that makes a GS watch different and highly attractive. For its latest creations, the SBGW297 and SBGW299, Grand Seiko releases a pair of compact and elegant watches modelled after the 44GS shape, with intricate dials that pay tribute to sensu, also known as traditional Japanese fans. 
It goes without saying that the new SBGW297 and SBGW299 aren't entirely new watches. We've already seen this compact architectural case and hand-wound movement combination on several occasions before. It all started with the reference SBGW289, which introduced the compact 36.5mm case modelled after the 44GS concept to the collection. A reasonably sized and unisex take on an emblematic design, it opened the door to a series of watches that are now integral members of the range, such as the classic SBGW291 and SBGW293 or the recent Europe-exclusive green-toned SBGW303.
Apart from new dials, we're looking at a pair of watches that are mechanically and spec-wise identical. No complaints here, this compact and thin take on the otherwise bold and distinctive 44GS concept is a favourite of the MONO team. It all starts with a 36.5mm diameter that will, without a doubt, be appropriate on both men's and women's wrists. At 11.6mm in height, we can't talk about ultra-thin watches, but it remains slender enough to make for an elegant(ish) style, specifically because a good chunk of the height is in the box-shaped sapphire crystal. The 42.7mm lug-to-lug reinforces its compactness.
As for the design of the SBGW297 and SBGW299, this new duo utilises one of the most emblematic shapes of GS, that of the 1967 reference 44GS – a.k.a the watch that introduced the brand's design bible: the Grammar of Design. Edgy, sharp and highly distinctive, this stainless steel case is composed of large flat-polished (with Zaratu distortion-free technique, of course) shoulders, a razor-like profile and a thin polished bezel. The mirror-like elements alternate with hairline brushed surfaces, both meeting in straight edges. The 100m water-resistance is a good feature and the back is closed.
The novelty here is the new dial pattern. Behind its deeply embossed sunray motif is the Japanese tradition of sensu, folding fans specifically designed for performing arts such as classical dance and traditional theatre. The result is intricate yet still discreet.
The dial is combined with classic bevelled and ultra-detailed applied markers and hands. The white version (SBGW297) has a contrasting blued seconds hand and entirely polished hardware, while the blue model (SBGW299) keeps it monochromatic yet with a small difference perceptible in the brushed line along the centre of the hands and markers.
As for the mechanics, like all previous editions of this 36.5mm 44GS watch, the new duo is powered by the in-house calibre 9S64. This hand-wound movement stores up to 3 days of power reserve and is adjusted in 6 positions to an accuracy of -3 to +5 seconds per day. Both are worn on a 3-link steel bracelet with a folding clasp.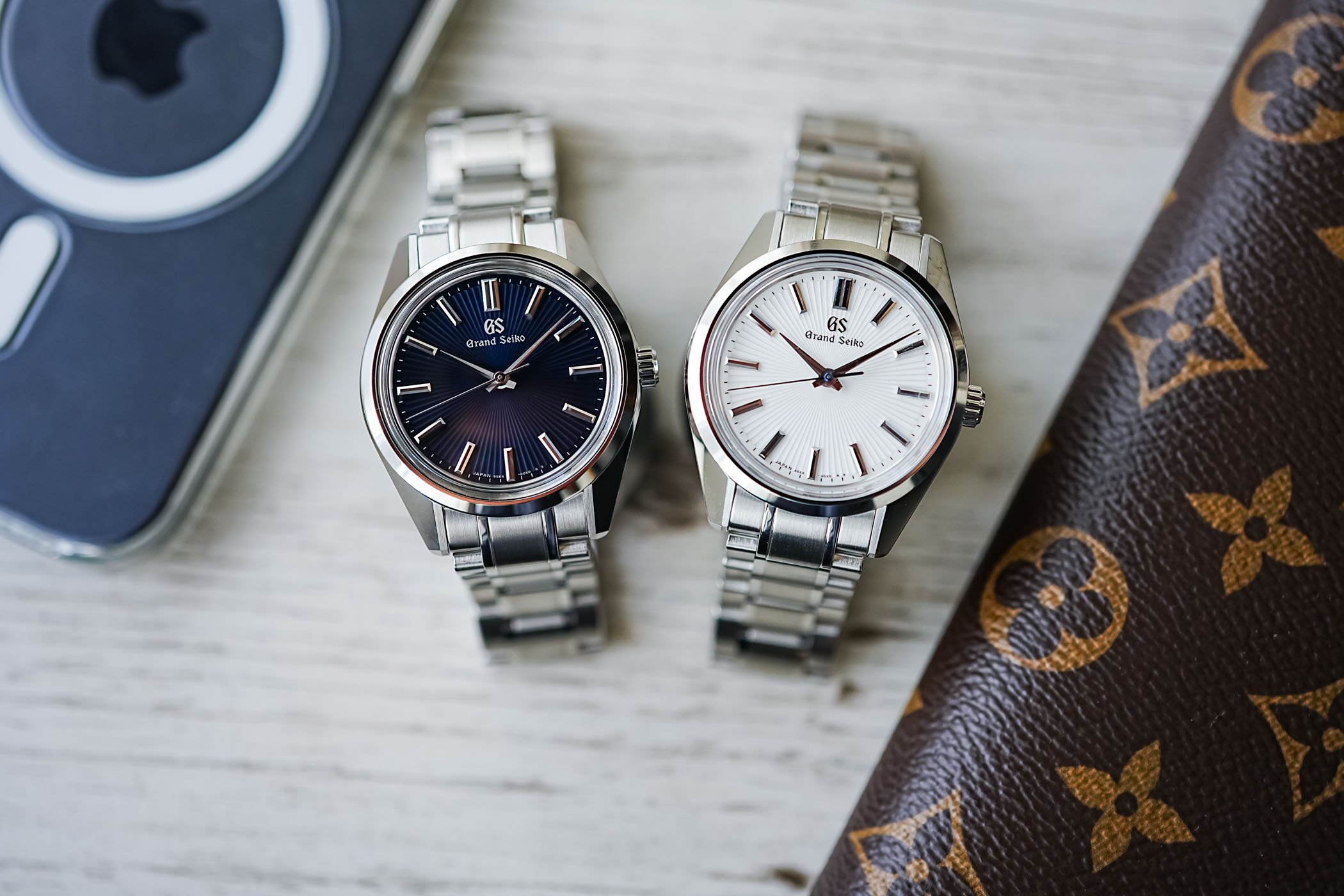 Availability & Price
The Grand Seiko Heritage 44GS 36.5mm SBGW297 and SBGW299 will be released as part of the permanent collection (not limited) on 1 November 2023. They will only be available from Grand Seiko Mastershops, Salons and Boutiques. Both will be priced at EUR 5,700. For more details, please visit www.grand-seiko.com.
https://monochrome-watches.com/grand-seiko-heritage-44gs-36mm-hand-wound-sensu-inspired-fans-dial-sbgw297-sbgw299-hands-on-specs-price/