Hands-on review – Frederique Constant Manufacture Perpetual Calendar, a QP priced under €8,000 (Live photos)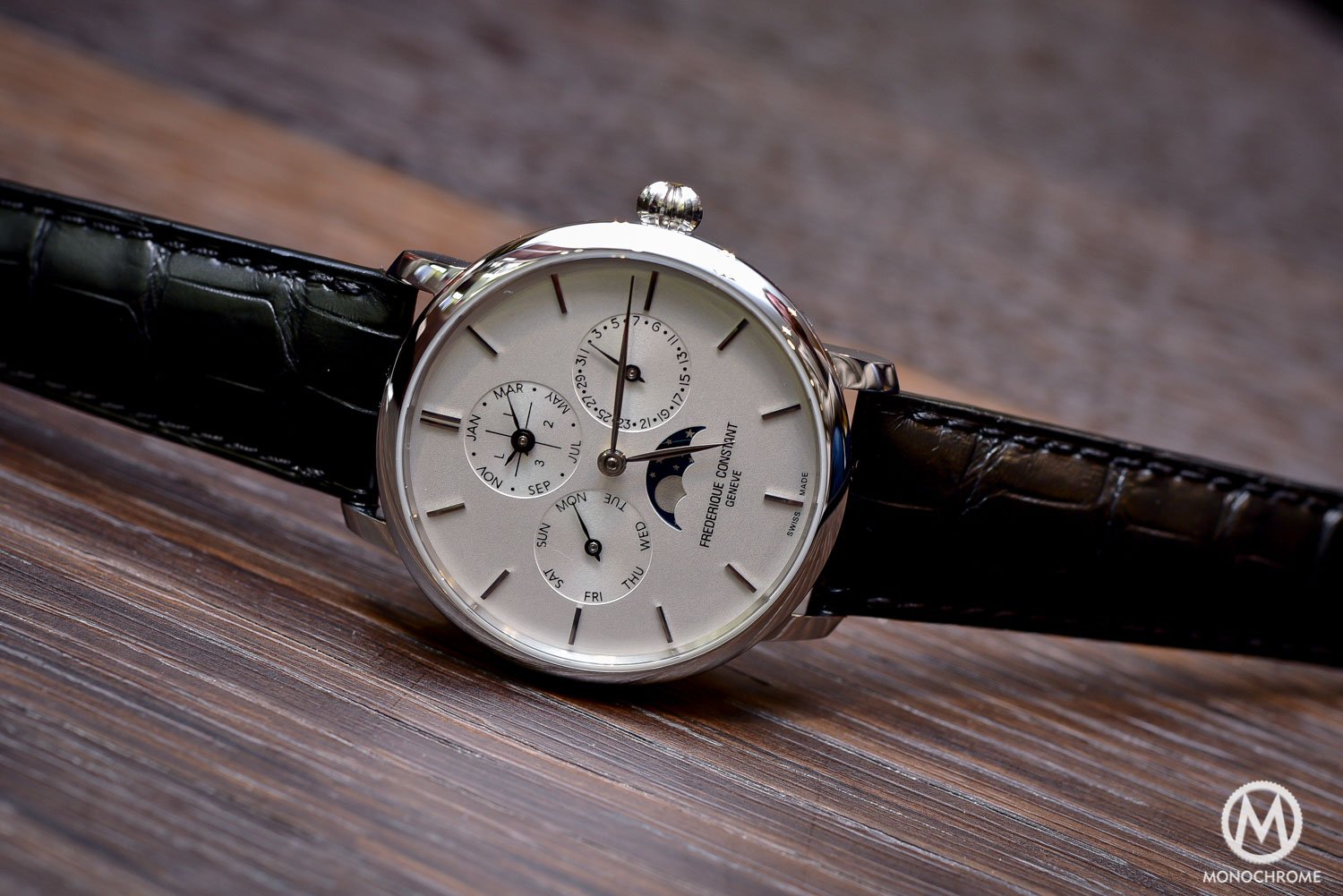 Among the classical watchmaking complications, the perpetual calendar is certainly one of the most desirable, as being a strong technical achievement. Because of what it does (being able to have a watch correctly adjusted for the coming 100 years…), it is sought after by collectors and can be seen as a sort of achievement in a collection. However, as expected, this is not a cheap type of watches. Well, it was not until a few years and it is even truer now, as at Baselworld 2016, a QP priced under 8,000 Euros has been launched, the Frederique Constant Manufacture Perpetual Calendar. And don't expect it to be featured with a poor content, as it has several arguments under the hood.
What is a Perpetual Calendar and why it isn't cheap?
Before we start with this short technical explanation, we recently published a complete overview on the subject, here. To understand why a perpetual calendar exists, we first have to remind that our calendar, the Gregorian Calendar, is based on a year with 365 days, with months of 30, 31 or 28 days. Also, there is the existence of leap years. Every 4 years, the month of February has 29 days. Finally (and that's why a perpetual calendar is not fully accurate), for the secular years (xx00), there's no leap year.
Thus, since ages, watchmakers tried to achieve watches as precise as possible and requiring fewer adjustments (for two reasons: adjusting a watch is always a critical moment and the more precise, the more marketable a watch is). Thus, watchmakers invented a calendar that takes into account the months with 30 or 31 days, and also the month of February with 28 days and finally, every 4 years, the watch self-adjusts correctly with the 29 days of February.
Technical scheme of the Frederique Constant Manufacture Perpetual Calendar – click to enlarge
How does it work? The calendar indications are synchronized by a lever (in French "grand levier") running across the top of the complication and passing through the central axis of the hands. It is guided by a mechanical program, in fact a specifically shaped wheel over the month, which will give indication to all the other sub-dials. This wheel is shaped differently for the months of 30, 31 and 28 days and of course for the specific month of February with 29 days. As the date changes, this long lever transmits information to the appropriate components and mechanisms by moving backwards and forwards. Then, in the traditional grand levier system, perpetual calendars assume that, by default, all months have 31 days. At the end of months with less than 31 days, (when the programmed wheel has a notch), the mechanism understands that the coming month isn't 31 days long and thus quickly skips through the next dates before arriving at the 1st of the new month.
As you can see, many parts are required and the calculations to achieve a perpetual calendar aren't simple. Adjusting such a watch and making it reliable takes time and, in watchmaking, time means a more expensive watch. This is why perpetual calendars are usually priced north of 20,000 Euros.
The perpetual calendar – a single complication, several price ranges
For years, collectors wanting to invest in a perpetual calendar had to have deep pockets. If you look at what is certainly THE most classical perpetual calendar on the market, the Patek Philippe ref. 5140, you'll have to spend approximately 70,000 Euros. The case is of course made out of gold or platinum but still, it isn't cheap. Same goes for watches produced by Vacheron Constantin or Lange and Sohne. Then, you have the option of an IWC for example. An IWC Portugeiser Perpetual Calendar in gold is priced at around 40,000 Euros – but the movement is not finished with the same details.
For a long period, the most affordable perpetual calendar on the market was the stainless steel version of the Jaeger-LeCoultre Master Ultra Thin Perpetual, with an actual retail price just under 20,000 Euros. This was possible by the use of a QP module attached to a rather standard movement (still manufactured in-house by Jaeger) and by having a case made in stainless steel – thus considerably reducing the price (the gold versions start at 29,000 Euros). Then, in 2014, Montblanc stroke hard with a mechanical perpetual calendar priced under 10,000 Euros in its stainless version (a gold version also exists for 17,000 Euros). Many collectors and watch journalists were intrigued by such a value proposition, which was possible by using a simple Sellita movement as a base and a Dubois-Depraz module on top.
We all thought that it would be extremely difficult to beat such a proposition… but it was without counting on Frederique Constant, which now comes with a mechanical perpetual calendar priced under 8,000 Euros (7,995 Euros to be precise) AND with an in-house movement and an in-house QP module (and that is certainly the biggest surprise).
Review of the Frederique Constant Manufacture Perpetual Calendar
We already knew that Frederique Constant was able to offer interesting watches with a reasonable price, and this, with a movement designed, developed and manufactured in-house. Take for instance the Frederique Constant Manufacture Classics Moonphase, with its nice classical design, its well finished case (with officer caseback) and dial and its movement displaying a date and a moon phase. This watch is priced at 3,600 Euros and it deserves every penny.
However, the announcement of the Frederique Constant Manufacture Perpetual Calendar was a surprise. First, because we didn't expect the brand to play on such a complicated field. The QP is usually the apanage of the large, high-end brands – even if we secretly applaud that a brand like Constant does have now a QP… Then, the second slap was clearly the price: under 8,000 Euros or under 10,000 USD! First, we expected the watch to feature an out-sourced movement, or a least an out-sourced perpetual calendar module. We were wrong.
As you can see, the Frederique Constant Manufacture Perpetual Calendar is a very classical watch. A round case made in polished stainless steel (a gold plated version is also available), several options for the dial (including a silver toned one, a blue one and a one with a stamped pattern) and a dial fitted with traditional leaf hands and straight applied batons for the indexes. Then, the layout of the perpetual calendar is also extremely classical – date at 3, moon-phase at 6, day of the week at 9 and, in a single sub-dial at 12, the month and the year. If your quite knowledgeable in terms of watches, you certainly spotted the resemblance with another QP module here. And so did we…
In fact, before going on the Frederique Constant booth during Baselworld 2016, we were almost sure that the Frederique Constant Manufacture Perpetual Calendar was featuring a module by Dubois-Depraz – the one used in the Montblanc Meisterstück Heritage Perpetual Calendar and that features the exact same layout. However, when you look the QP of Constant in the details, there's something that tells you that it is not possible. Indeed, the Dubois-Depraz module is small, and even on the 40mm Montblanc, the sub-dials somehow squint – they are positioned rather close to the central axis of the hands. However, the Frederique Constant Manufacture Perpetual Calendar has a 42mm case and, as you can see on the photos, the sub-dials are not too close from the centre of the dial and they occupy quite well the space. This is where we knew that something else than an out-sourced movement was ticking inside.
From the start, Frederique Constant wanted its Perpetual Calendar to have a larger case – here 42mm. Thus, the option of the out-sourced module was impossible, as the dial would have been quite bizarre, with sub-counters packed in the middle of a large and empty dial. The solution was to develop an in-house module, adapted to the existing in-house movement of the brand. From the words of the CEO Dr. Peter Stas (we'll soon have an interview with him online, fully explaining the idea behind the brand and this new watch), it took the R&D team 3 years to develop and industrialize this QP module. One of the main fields of research when developing this module was in keeping costs low, something achieved with an improved ease of assembly for the parts of this module.
Of course, considering the low price, don't expect this Frederique Constant Manufacture Perpetual Calendar to feature fancy complications, like retrograde displays, the ability to be adjusted quickly backward and forward or any protection devices. It is a basic perpetual calendar, but in the end, it will do what every single QP does: taking into account the month of February during normal years (with 28 days) and during leap years (with 29 days). And like all the other perpetual calendars, it will require only 1 adjustment per 100 years. Adjustments are done via pushers in the casebands (at 10 for the rapid date correction, at 10h30 for the month and leap year correction, at 8 for the day correction and at 4 for the moon phase correction).
The module is here attached to the classical in-house of Frederique Constant, meaning a movement with 38 hours of power reserve and beating at 28,800vph. This calibre FC-775 is rather nicely finished with circular Geneva stripes and blued screws. Bridges are bevelled and rhodium plated. Its rotor is opened to keep a view on the movement and it is gold plated. Overall, it comprises 191 parts.
Concluding words about the Frederique Constant Manufacture Perpetual Calendar
Of course, the Frederique Constant Manufacture Perpetual Calendar isn't the best designed or the best finished perpetual calendar around. Of course, it remains a simple QP, with no extra-features. Of course, the watchmaking industry is capable of creating watches with much more complicated movements or with hand-made executions. However, this is not the point of Frederique Constant. The Manufacture Perpetual Calendar has to be regarded for what it is: the most affordable mechanical watch with a QP. And when we were expecting it to be cheap looking or poorly equipped, it actually features a strong package, especially by having a movement and a module deigned and manufactured in-house – and thus, it has Swiss Made written on the dial.
The Frederique Constant Manufacture Perpetual Calendar is an impressive watch, not because of its content, but because it is clever… clever in the way it is conceived and clever in the price positioning. 7,995 Euros is of course a lot of money but it is also extremely accessible, at least for a perpetual calendar. This watch somehow pushes the boundaries of an industry that relies on outdated successes to sell watches that are not accessible for a large audience. The Frederique Constant Manufacture Perpetual Calendar isn't perfect, it doesn't feature the most beautiful movement we've seen so far but it has extremely good arguments compared to its title of "cheapest mechanical perpetual calendar on the market".
Also available with a rose gold plated case, priced at 8,295 Euros. More details on frederiqueconstant.com.
https://monochrome-watches.com/frederique-constant-manufacture-perpetual-calendar-cheapest-qp-review-live-photos-price/