Found
An Ultra-Crisp, Ultra-Rare Patek Philippe Nautilus 3700-1J Gübelin-Signed… For EUR 198,000
One of the ultimate collector's items... Or is it just about speculation?
If you have the slightest interest in watches, you're certainly aware of the collectibility and (insanely high) market value of the Patek Philippe Nautilus. Nothing new here. Produced from 1976 to 1990, the first generation Nautilus – the reference 3700 – is a relatively rare model, as even the steel versions were only made in about 5,000 pieces. A perfect condition steel 3700/1A is a collector's must-have. However, there are even more collectible versions, and we just found one of these ultra-rare, ultra-expensive models, a yellow gold Patek Philippe Nautilus 3700/1J, as crisp as new, and with a Gübelin-signed dial. Now, that's something you don't see every day. And it also reflects the state of the current market, which might be getting out of hand…
First of all, if you want to know everything about the first-generation Patek Philippe Nautilus, we encourage you to have a look at this in-depth article we published a few years ago. It is a good starting point to understand why the watch we present today is something truly special.
The Nautilus was Patek Philippe's answer to the newly developed concept of the luxury sports watch. First introduced by Audemars Piguet and its Royal Oak, the idea was to offer the same level of refinement as the brand's classic and complicated watches in a more robust and casual stainless steel case. The genius behind both the Nautilus and the Royal Oak, designer Geral Genta, also inaugurated the idea of a bracelet watch, an item designed as a whole, where the case and the metal bracelet were conceived as one coherent piece. The luxury sports watch was born in 1972 and Patek Philippe entered that game in 1976, with its Nautilus watch.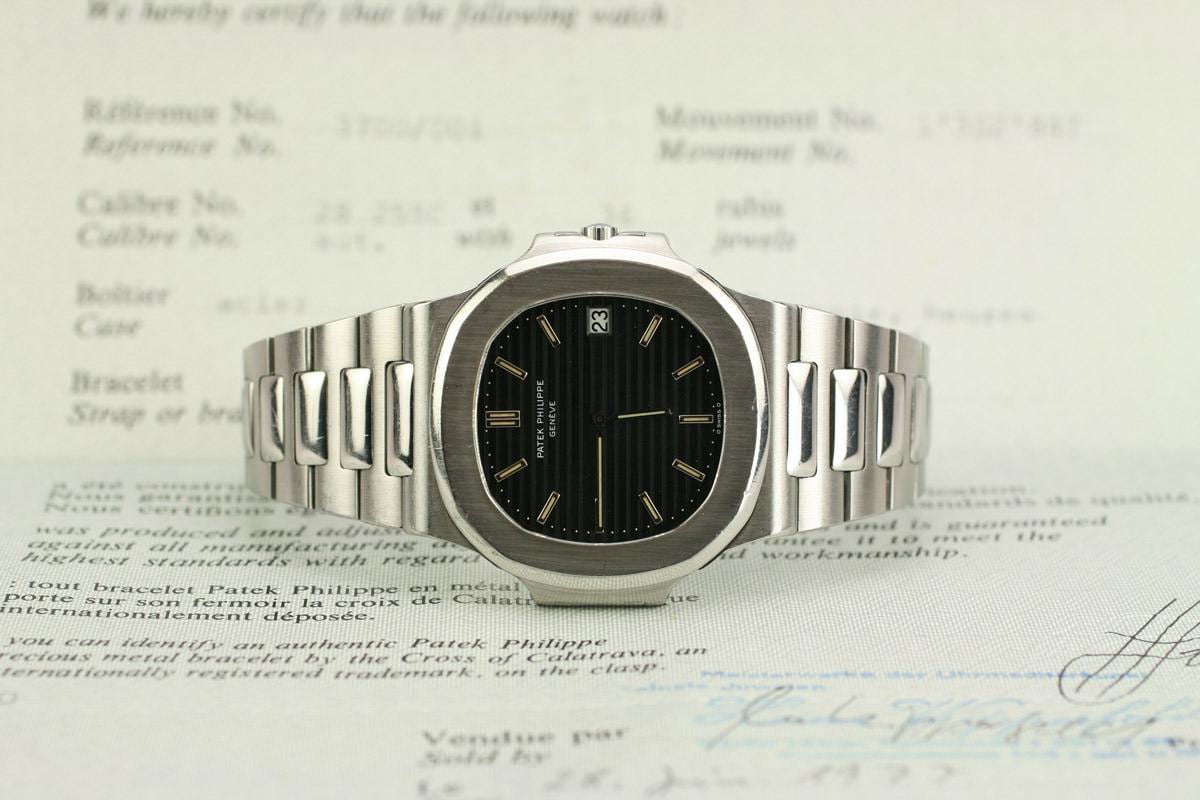 The first generation Nautilus, the reference 3700, was produced from 1976 to 1990. More precisely, the 3700/01A (steel with large bracelet) has been produced from 1976 to 1982 and the 3700/11A (steel with narrow bracelet) has been produced from 1982 to 1990. Altogether, the estimated production is 5,000 pieces, most of them being "large bracelet" models. As such, even the more 'common' steel model is a relatively rare watch. And that is reflected by prices at auction and established watch dealers. Indeed, a steel Nautilus 3700/01A can easily fetch today around EUR 100,000. And that's for a watch with no special features…
But that's not all, since Patek also offered its first-generation Nautilus in precious metals, such as the 3700/1AJ (steel and gold), the 3700/1J (yellow gold), or the extremely rare 3700/1G (white gold). There's even a platinum version, which apparently is a unique piece. While the steel model remains the definitive version of this watch in our books – it was first conceived as a steel model – the yellow gold alternative is not to be overlooked when it comes to collectibility, with a production of about 1,500 pieces for both references 3700/1J and 3700/11J, as well as versions with diamond bezel.
And then, there's the idea of double-signed watches. Back in the 1960s or 1970s, it was quite common for large retailers to stamp their own logo on the dial of watches, in addition to the manufacturer's logo. Think about Tiffany Rolex watches for instance. For Nautilus watches, some are known to have both the Patek Philippe logo and, on top of that, Beyer or Gübelin printed at 6 o'clock. And, because these models are even rarer than a single-signed watch, you can easily imagine the effect this has on the market value.
This is exactly the case with the present watch, a Gübelin-signed yellow gold Patek Philippe Nautilus 3700/1J, meaning the first generation with a large bracelet produced from 1976 to 1982 (the present example left the manufacture in 1980). According to the seller, Amsterdam Watch Company, "The (watch) you see here is from the very first series made entirely out of 18k gold with the dial specially made for Gübelin, a famous jeweler based in Lucerne. Gübelin started in 1854 with a small watchmaker's shop in Lucerne and became a respected name very fast. Throughout their history, Gübelin has always remained a family-owned business. Over the years, the House of Gübelin and the House of Patek Philippe have forged strong ties with incredibly collectible watches as a result." Also important to note, "currently, only five pieces are known from this first 18k Nautilus generation with a Gübelin signed dial". Meaning an extremely rare model presented in mint condition with all certification papers attesting its provenance. It has recently been fully restored by Patek Philippe.
What does it mean in terms of price? Well, as you can expect, such a watch comes at a premium. A standard Nautilus 3700/1J or 3700/11J can easily fetch about EUR 110,000 to EUR 140,000, depending on its condition. The present double-signed example listed by AWCo is now offered for EUR 198,000 and is listed here.
The state of the vintage nautilus market
Let's start with the basics, the stainless steel 3700/1A Nautilus. While it is widely known that the value of the modern version of the Nautilus, the 5711, has risen drastically over the past couple of years, the same can be said about the vintage editions of this sought-after watch. Scanning the market gives a pretty clear idea of what to expect; about EUR 90,000 is a good starting point to add a steel 3700 to your collection. Take, for instance, this nice example for sale in The Netherlands, with (service) box and papers, offered at EUR 95,000. In comparison, an equivalent model sold at Christie's in 2012 for CHF 40,000. The market value has almost tripled in the last 10 years.
Of course, this is nothing in comparison with double-signed watches, which are arguably far rarer and, incidentally, far more collectible and thus more expensive. For instance, London-based dealer A Collected Man is currently listing a stainless steel 3700 Beyer-signed, which is offered for EUR 175,000, meaning almost double the price asked for a single-signed stainless steel edition.
In the same vein, another yellow gold Nautilus Gübelin-signed is listed here, this time with a price of EUR 375,000. That's about three times the market price for a single-signed gold model. Still, if you ask me, I doubt this example will ever find a new owner at that listed price.
Altogether, looking at the current market for vintage Nautilus, and specifically these double-signed watches, this makes us wonder, here at MONOCHROME, where the reality of the market stands. Are there real, potential buyers for such watches? In fact, there is a market, and watches change hands, this is a fact. Is it a speculative bubble and will it burst? A few years ago, I would have tended to say that this situation couldn't last and that, after a couple of years of upward price movement, the market would have corrected and come back to a more realistic state. However, it appears that prices for vintage Nautilus (and also for vintage Daytonas or Royal Oaks, to name a few) are steadily going up, with no sign of downward correction.
https://monochrome-watches.com/found-gold-patek-philippe-nautilus-3700-1j-gubelin-signed/