Formex is Back with Bold Watches and Direct-To-Customer Model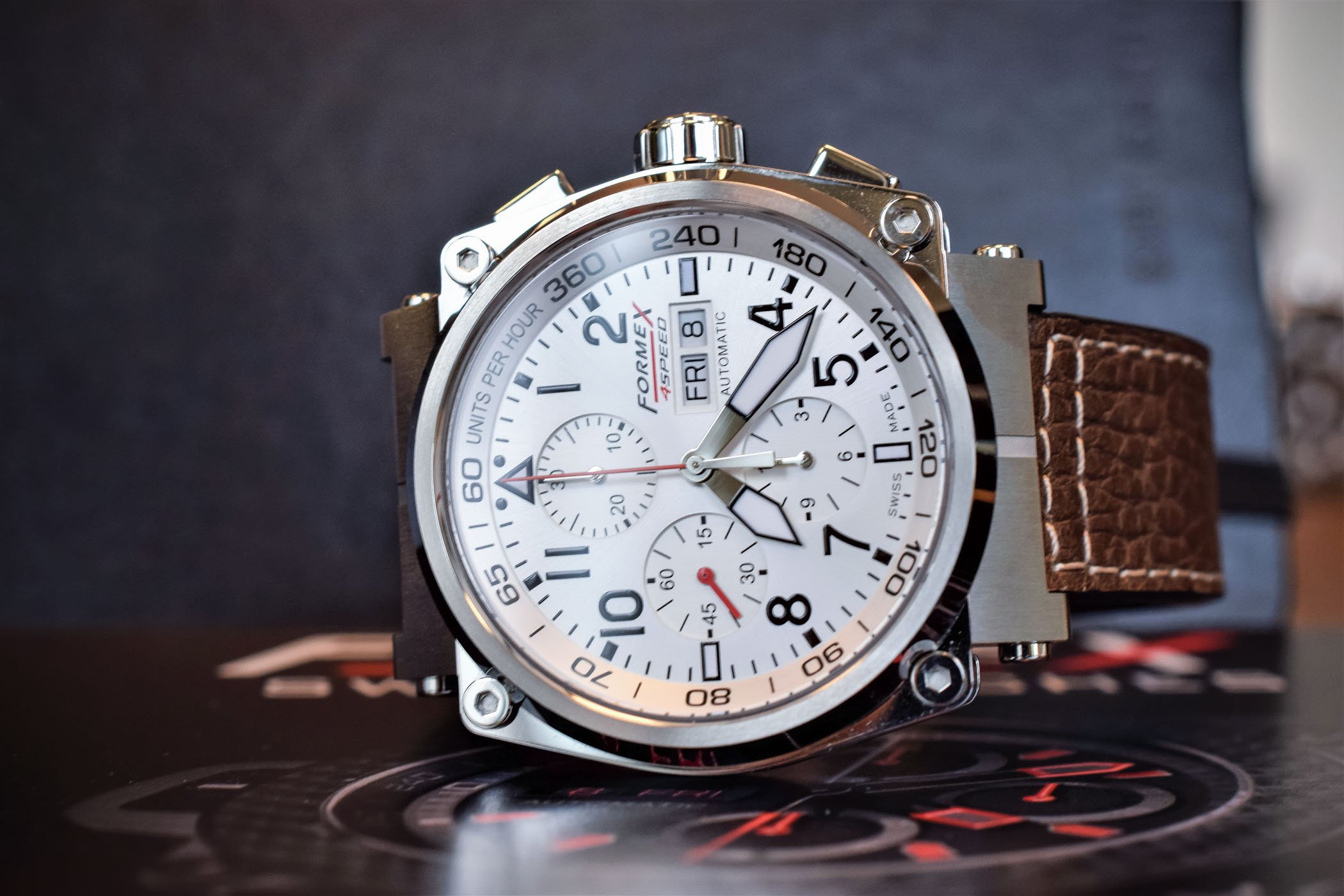 Until fairly recently Formex used to be a bricks and mortar watchmaker. This was before Raphael Granito took over the company a couple of years ago. In the midst of an increasing competition and changing times for the watch industry, Granito decided to shift the business model from wholesale distribution to direct-to customer.
Adopting an online only sales strategy is easier said than done. But it is also empowering the company in a way never possible before in many respects. In particular, by adopting a direct-to-customer strategy and cutting out the middle men, the brand is now able to provide its watches at a fraction of the price they were retailed before, offering excellent value for money – to say the least.
The AS1100 is powered by a Valjoux 7750 chronograph with date and date display. The 46.5 mm case is crafted from black PVD coated titanium/steel and features the brand patented suspension system together with two sapphire crystals. Retail price: 1,225 CHF.
Formex watches was created in the late 1990s, taking its name from the combination of the words 'Forme Extrême' (extreme shape in French). Formex manufactures rugged action watches. All timepieces from the brand feature a patented case suspension system. Inspired by the engineering of high-performance cars and bikes, it was designed to provide shock protection and enhanced comfort. Their watches wear surprisingly well, specifically when you strap a watch tightly on your wrist.
The Formex company structure is light with no unnecessary overheads; the company sourced all components while the watches are now assembled in-house in Biel, where the brand is headquartered. All watches are Swiss-made. The brand uses quartz and mechanical movements, focusing mostly on industrial movements; reliable workhorses such as the ETA 2824, Sellita SW200 or the Valjoux 7750 calibres. The cases are all rather complex, specifically with their distinctive suspension system.
There are also many strap/bracelet options: embossed leather, technical fabrics, silicone, Italian leather or steel/titanium bracelet. A strap measuring tool allows you to make sure your strap or bracelet is delivered in the right size.
The case back of a Valjoux powered AS1100 watch.
Formex has three collections today. The AS1100 is inspired by the world of motorsport and available as a three-hander or a chronograph. The DS2100 is the dive watch collection from the brand and is rated water resistant down to 200 m / 660 ft. The TS3100 is a bold, super sporty left-side pusher chronograph featuring a prominent crown-shield. Raphael Granito being an adrenaline and extreme sports aficionado himself expect models much in the same vein for future developments.
The DS2100 is the Formex dive watch collection. The model above is powered by an ETA 2824 or Sellita SW200 automatic movement. The steel/titanium case is 46.5 mm in diameter. It features a rotating bezel and luminescent dial and hands. It is rated water resistant to 200m (660 ft). Retail price: 665 CHF.
The TS3100 with its distinctive crown guard is powered by a Valjoux 7750 chronograph. The steel/titanium case with carbon fibre bezel is 46.5 mm in diameter. Retail price: 1,385 CHF.
#betweenyouandus is the company's new motto as their watches are sold online exclusively. Beyond the price cut, it also underlines their approach to client relationship. No hefty-marketing budgets, but a focus on product development and on delivering solid quality. And a direct relationship for customers with the brand.
Their all-inclusive policy includes free shipping for all countries listed on their website (target delivery of 2 business days in Europe, 2-3 business days for overseas orders). Prices include taxes and duties with no additional costs to expect (only to a handful of countries that have highly restricted import regulations on luxury goods, Formex cannot cover all taxes and duties for the client). A 30-day free return is offered together with an above industry average 3-year warranty.
Naturally, many customers want to touch and hold the watches before buying. Formex has developed a cool augmented reality app so you can try on virtual watches with your smart phone. All you need to do is download their app and print a paper strap from it (or use one of their snap on straps that they ship with every purchase or service operation).
For more information about Formex watches, please visit www.formexwatch.com.
https://monochrome-watches.com/formex-back-bold-watches-direct-customer/