Introducing – Farer Automatic Watches – British Design, Swiss Made, Vintage Look, Reasonable Price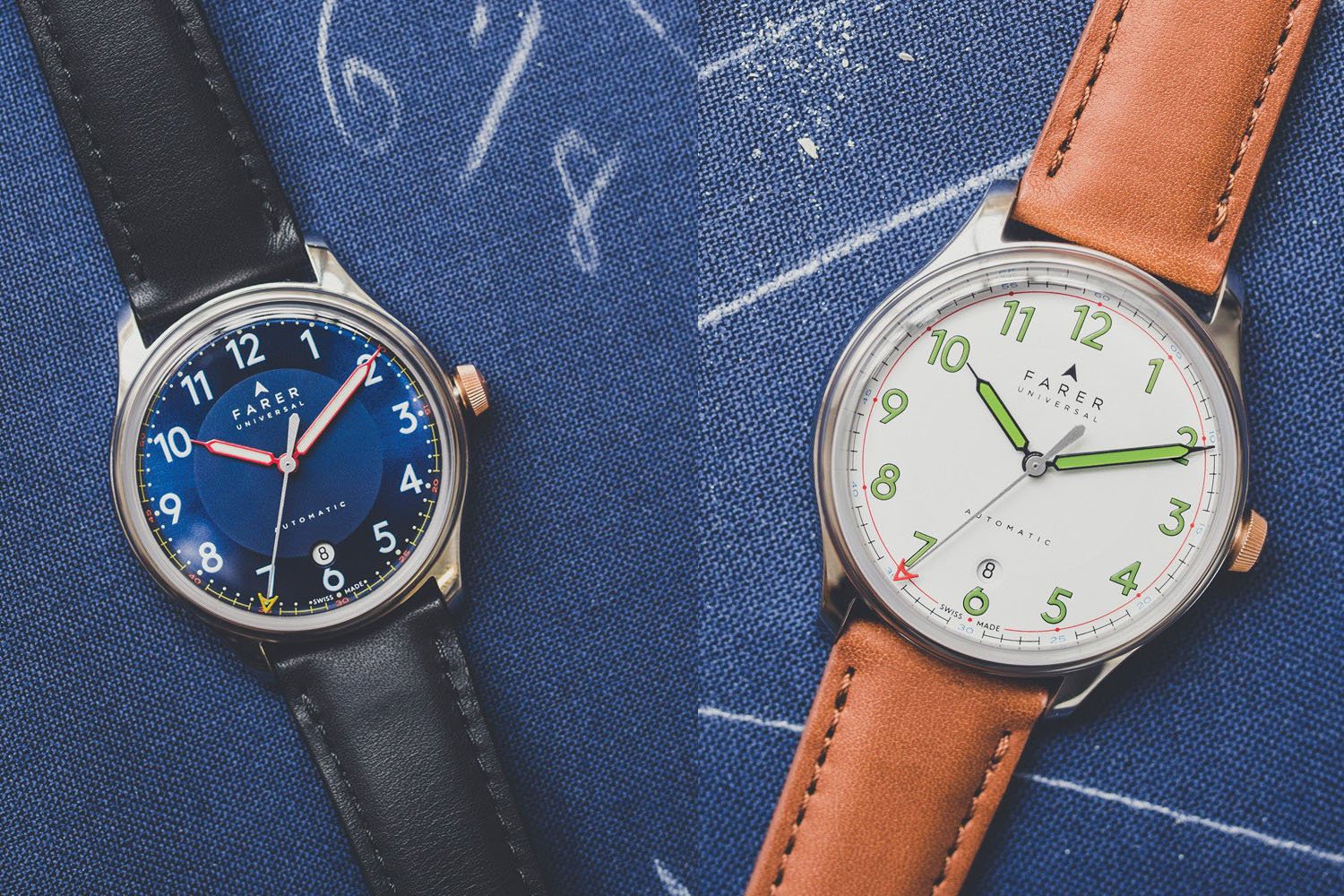 Wouldn't it be pleasant if all the youngsters around would involve progressively in real watchmaking, meaning mechanical watches, if most of them grew as collectors, instead of looking at massive and not-so-distinguished fashion brands watches? Well, we don't live at "candy land" and things won't change that fast. However, every collector must have a starting point and when a cool, slightly fashion-oriented brand introduces automatic watches after a first successful collection of Quartz timepieces, it can only bring new, younger people to show interest in mechanical. Here are the Farer Automatic Watches, a combination of British Design, Swiss Made and Vintage Look – a for a reasonable price.
Farer watches started with a first collection of watches, in November 2015. Quite successful, these watches – all quartz unfortunately – were showing a nice, vintage-inspired design, which recalled military and sports watches from the 1960s. Cases were rather small – 39.5mm – details were interesting – nice straps, cool designs for the dials – and the overall look was a combination of traditional codes of vintage watches, together with just a bit of fancy colors on the indexes and the hands. Discreet, elegant, a bit off the beaten track… This was enough to make these watches known and to build a sort of brand image. However, as nice the design was, these watches were still housing a quartz movement. Not for us… yet!
The idea behind Farer Automatic Watches is a British Design combined to Swiss Made quality. Watches by Farer are designed and developed in London – probably explaining this funky attitude, a combination of vintage and modern – and are produced in Switzerland, by Roventa-Henex, a Swiss manufacturer that works behind the scenes for multiple brands. The best of both worlds… We certainly prefer that to a Swiss designer and a British watchmaker (sorry for the clichés).
The good news is that Farer Watches now explore the world of mechanical, which means that we could still enjoy a nice design with something that appeals to us, a real movement – and clearly, we encourage all the youngsters who looked at and loved their previous creations to take a much closer look at these new timepieces. 3 editions will be available at the beginning, all named after famous vessels that carried Britain's most brilliant explorers around the globe – the brand's name, Farer, means "to journey, to explore". You'll find the Beagle, the Hopewell and the Endurance.
All three feature a stainless steel case of modern but still reasonable dimensions, at 39.5mm x 10mm, which clearly emphasizes the vintage-oriented look. The shape, rather traditional, recalls 1960s sports watches. A nice detail is the contrasting crown, made out of bronze – which color will evolve while you wear the watch, depending on the conditions. On top of the case is a domed sapphire crystal, which again recalls 1960s watches, with a high profile.
The dials of the Farer Automatic Watches are clear tributes to explorer watches from the past, with clear indications and a style that won't be completely unknown to watch aficionados. The Farer Beagle has a dial close to WWII military pieces, with large Arabic numerals, matching the hands. However, no faux-patina or cream indexes and hands here, but a lime green paint, which gives a bit of funkiness. This display is linked to a railroad track for the minutes. It is secured to the wrist with a nice light brown barenia leather band.
The second edition, the Farer Hopewell, shows an elegant blue dial with sun-ray pattern periphery and matte central area. The hands, still with the vintage syringe look, are painted in red and the indexes, bolder and more stylized here, are painted in white, with a twin minute track, combining white dots and a yellow railroad track (a color that can be found on the second hand tip). Then again, we have a qualitative barenia leather strap, but here in black.
The latest edition is probably the more modern of the three, with a design that somehow recalls Bauhaus (and some German watches…). The Farer Endurance features a silvery-white dial with sun-ray pattern on the periphery and a combination of painted indexes and Arabic numerals, all in blue. The hands are black, the second hand is light blue with a red tip and the minute track is red on the upper half and blue on the lower half. While this description could lead you to imagine a huge mess, in the end the design properly works. It is attached to the wrist with a blue barenia leather strap.
Inside the cases of the Farer Automatic Watches is a known and reliable movement, an ETA 2824-2, so-to-say, a proper workhorse that will provide accuracy to the display and that will be reliable and easily serviceable for the coming decades. The movement is visible through the caseback, something that is always pleasant for newcomers and young collectors – the view on the movement is clearly participating to the construction of the passion for mechanical watches.
Altogether, these new Farer Automatic Watches are nicely designed, they show slightly off the beaten track details (with colored tracks and hands, but very well dosed) and now feature automatic movement, reliable and technically interesting enough to please some collectors. To me, these watches can easily be a starting point of a collection and will be a nice option for those who can't afford to go to Nomos or Omega, and those are still afraid by vintage, but who want the look and feel of antique. Price are very decent: £875 / $1,075. Available on Farer website here.
---
Specifications of the Farer Automatic Watches
Case: 39.5mm x 10mm – stainless steel – sapphire crystal on front and back – 50m water resistant
Movement: ETA 2824-2 – automatic – 38h power reserve – 28,800 vibrations/h – hours, minutes, seconds and date at 6
Strap: barenia leather with steel pin-buckle
https://monochrome-watches.com/farer-automatic-watches-british-design-swiss-made-price/