Hands-on
First look at the DeWitt Academia Endless Drive and its Surprising Power Reserve Display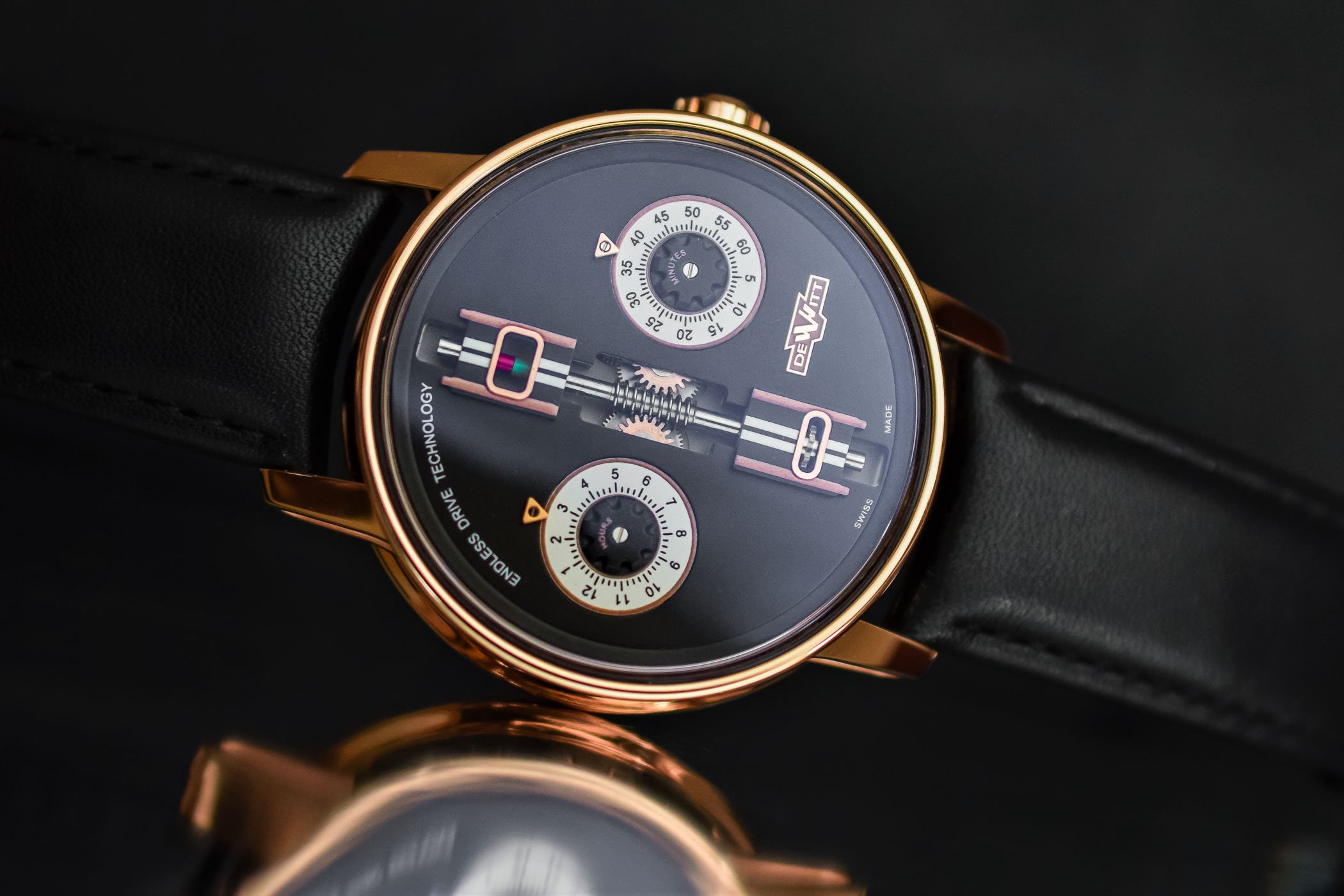 Presenting the DeWitt Academia Endless Drive, a watch with a visually appealing power reserve indicator staged and animated in a unique way. And if the power reserve is the pièce de résistance of this new piece, you'll see that there is more than meets the eye. Here's an advance hands-on look at this original design, totally in keeping with the brand's DNA.
We, watch aficionados, have a fascination for the complicated, impressive machinery ticking in mechanical watches. Hundreds of minuscule parts working together. Timepieces which allow us a detailed look at their inner workings and the intricate interplay of the gears are always of special interest. A prime candidate, the DeWitt Academia Endless Drive features an original and visually appealing power reserve indicator driven by a worm screw placed in the center of the stage.
The black galvanic dial is hand-crafted in-house. Its rather minimalist layout puts the limelight on the "endless" worm screw. It also features automotive-inspired elements (one of Mr. DeWitt's passions) such as the "car radiator grille" motif. The hours and minutes are indicated in a distinctive way by two rotating discs at 3 and 9 o'clock, creating a pleasant symmetry.
The endless drive concept is based on a helical worm screw to display the power reserve. When the crown is rotated to wind the barrel, the screw slides up the longitudinal axis. When the power reserve decreases, it slowly slides down. The green/red indicator at 12 o'clock will consequently display the power reserve as the screw slides up and down.
It is not the first DeWitt watch featuring and displaying an original mechanism to indicate the power reserve. The Academia Tourbillon Constant Force, a watch where the barrel spring drives a miniature chain, also uses an intermediate wheel to activate a power reserve indicator sliding on a worm screw.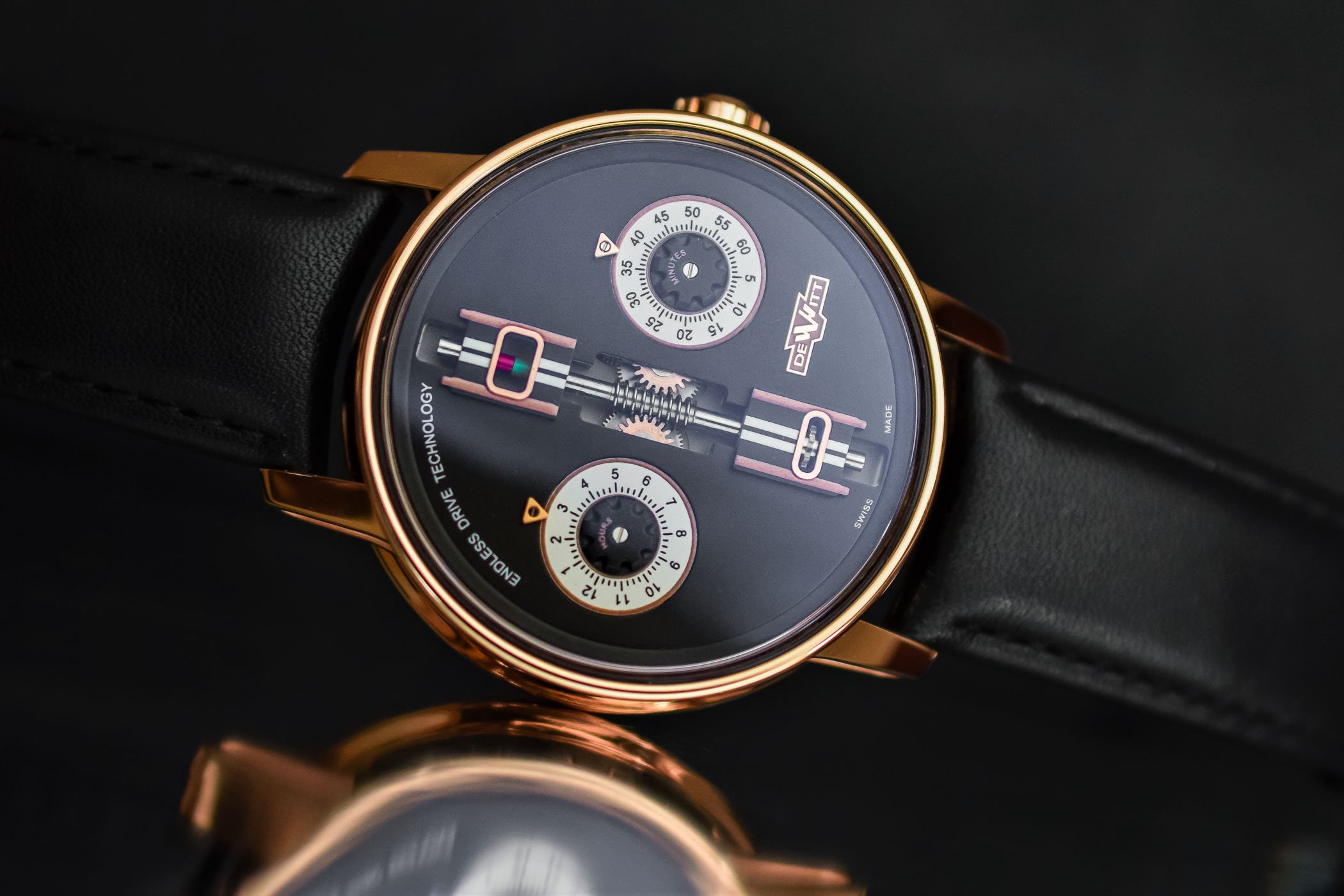 Adapted from the DeWitt caliber 5050, the self-winding caliber DW1653 operates at 21,600 vibrations per hour and the barrel can store up to 59 hours of power. Measuring 30.6mm in diameter, it comprises no fewer than 320 parts, including 39 jewels. Visible through the exhibition case back, it displays nice hand finishes and an openwork rotor emblazoned with the DeWitt 'W' logo.
The caliber DW1653 is housed in a 42.5mm case fashioned out of pink gold and black rubber, recreating the brand's distinctive imperial column motif. The lugs have been delicately hollowed out on the sides. The crown is engraved with the DeWitt logo. The watch is water-resistant to 3 atm.
The Dewitt Academia Endless Drive is worn on a calfskin leather strap secured with an 18K gold folding buckle adorned with the brand's 'W' logo. Price is set at CHF 38,500 (excl. taxes). For more information, please visit www.dewitt.ch.
https://monochrome-watches.com/dewitt-academia-endless-drive-hands-on-price/