Review
Understanding the Breitling Navitimer 8 B01 – with its Historic & Strategic Background
Is it a Breitling? Is it a Navitimer? Why was this watch created? We try to answer here.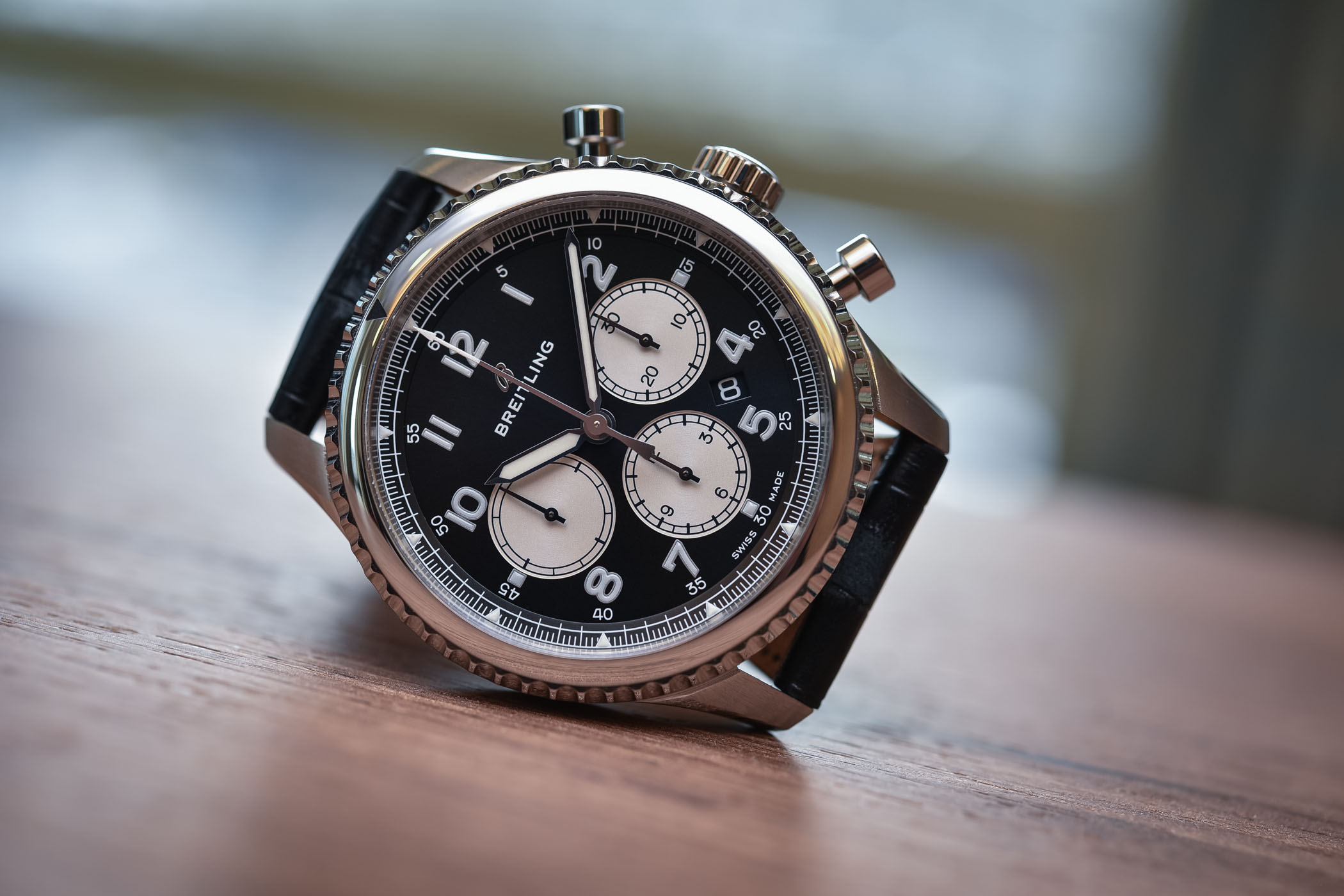 This is a fact: Breitling is changing. Since the arrival of Georges Kern (ex-CEO of IWC Watches and ex-Richemont) and CVC Partners at the head of the brand, some drastic changes are underway. And we all know that change is both a necessity and the most complex thing to manage. The first evidence of this new strategy is named the Breitling Navitimer 8 collection, news that already made the headlines and provoked strong debate among the watch community. Now that we've had a chance to hear from Kern directly, it is time for us to take a closer look at the collection's flagship, the Navitimer 8 B01 Chronograph, and try to give you a clearer view of what is going on at the brand.
Breitling's entirely new strategy
Before we move to the hard task of clarifying the Navitimer 8, it is important to understand the new, global strategy that Kern is deploying. First of all, the new Breitling is built around a new team which is financially involved (all top managers are shareholders and involved in the daily business of the brand). A first and clear message is visible with the new logo. The two wings are gone, leaving only the stylised B and Breitling. What does that mean? Breitling is not only about aviation. Of course, air is a large part of the brand's history, but not only. Already today, the brand has several collections focused on water. This is where the new strategy comes. Four collections or product families, clearly distinct one from another, will be created:
Navitimer – everything related to aviation, with the Navitimer 1 (the one we all know, with slide rule) and the Navitimer 8 (the new baby)
SuperOcean – everything related to diving and nautical-oriented pieces
Premier – a more elegant collection, linked to land, based on the roots of the TransOcean collection
Chronomat – an all-purpose watch, with a more robust concept
Each collection will also include three segments – elegant, elegant/sport, instrument/supersport. Also, the collection, which now comprises around 600 references, will be drastically shaved, with a goal of 150 references only – for more clarity. In terms of products, the large diameters (43mm or 46mm) will be kept as part of the brand's DNA, however, new, more rational dimensions will be added (38mm or 41mm) in order to cater to markets such as Asia or to younger/slimmer people. For those who are afraid of seeing only modern watches, rest assured that the brand will gradually introduce faithful vintage re-editions of past glories. Can you imagine a Co-Pilot 765 or a 1960s SuperOcean with a concave bezel? The goal is also to forge a link between the brand's past and present – which is rather complex, given the events of the 1970s. This vintage/heritage part of the brand is endorsed by several top collectors, who are now working closely with the brand as consultants.
Finally, the price offer will be clearly segmented (at least for the beginning): with 3-hand Sellita-based watches of 38mm/41mm at around CHF 3,600; 3-hand Tudor-based watches of 42mm at CHF 4,000; Valjoux-based chronographs at CHF 5,500 (all with monochromatic dials); and in-house powered watches (B01 or derivatives) at CHF 7,500 with "panda or reversed-panda" dials. Remeber that this first introductory section is a summary of what we've seen and heard. It's too early to judge if this strategy will pay off in the long run. What we can tell you is that it feels like something structured and well thought out. Since the teams started to work on this in August 2017,  nothing here results from the previous management. However, let's take a long, hard look at the new Breitling Navitimer 8 B01.
Is the Navitimer 8 a Breilting?
We are not going to hide the fact that this new Breitling Navitimer 8 collection, which we introduced here, took us by surprise. Many discussions arose around this piece and its link to Breitling. Many didn't feel the DNA of the brand here – which demonstrates that the brand still has work to do in terms of heritage and that a large part of its history remains unknown to a wider audience. Yet, Breitling is not only the Chronomat and the Navitimer. There's much more to tell and to discover. This new Breitling Navitimer 8 collection is an example of that.
This new collection is, in addition to being a modern watch, inspired by an antique Breitling collection – or to be more precise, by a relatively unknown Breitling Department. Most of the design elements you'll find in the Navitimer 8 are based on the Breitling Huit (Breitling Eight) Department. Renowned for its pilot watches, the brand was also a producer of onboard aviation instruments. The "Breitling Huit Aviation Department" was founded in 1938 by Willy Breitling to provide onboard clocks and other dashboard instruments to military and civil aviation. The name of this department was chosen to recall the eight-day power reserve offered by onboard clocks.
Looking closely at these pieces, you can feel the link between them and the new "Navi 8" watch. The notched bezel, the fonts, the utilitarian look, the railroad minute track… All the constitutive elements of the Navitimer 8 are based on these old clocks. What's more, the "Breitling Huit Aviation Department" didn't only manufacture onboard clocks but also some wristwatches, again intended for military use. A good example can be seen in the pilot's watch, Reference 768 and the Navitimer 8 is a modern take on this watch – the hands, for example, are modernised versions of the hands found on the 768.
To conclude this section, the new Navitimer 8 is most definitely a Breitling – but a Breitling that needs to be explained and deciphered. It is less obvious than one would want it to be. A brand undergoing such a drastic change needs to find new design inspirations and can't only rely on a slide rule to create an entire line-up of watches. This, however, proves that there is still some work to do in terms of heritage and in understanding the brand. Breitling is more complex and richer than many think. The brand is working hard on it.
Is the Navitimer 8 
a Navitimer?
This is the question we've seen most on social media and forums: Is the new Navitimer 8 really a Navitimer? In a way, it is quite a legitimate question, but here again, a bit more background is required to answer this question. For most, the Navitimer is this (see our article) – a pilot chronograph with sliding rule and notched bezel, a watch created in 1952, on the base of the 1940s Chronomat. It is an iconic watch, no debate. It is actually so iconic that most people think that this model, this style is the only Navitimer that ever existed. Something we've learned is that it has not always been the case. The Navitimer (the chronograph model) was the first of a pilot's watch collection, which would come to comprise many different models, multiple styles and in most cases, a sliding rule. See below, a photo on @watchfred Instagram account (a.k.a. Fred Mandelbaum, seasoned Breitling collector and consultant for the brand)
As you can see, there have been watches with the name "Navitimer" printed on the dial with totally different styles. Agreed, this was certainly not a common thing and the Navitimer collection was first and foremost a pilot's watch collection – and the new Navitimer 8 is first and foremost a pilot's watch. Yet, if you look in older catalogues, not all Navitimer watches featured a sliding rule either. Most were definitely pilot-oriented, yet the 1970s and the 1980s brought some more original watches. For instance, look at these two watches below – both are quartz/digital, both feature intriguing shapes, one even comes without the sliding rule.
Naturally, we can debate the legitimacy of these watches. They certainly aren't the best examples of what Breitling has produced in the past. Yet, what we want to demonstrate here is that the Navitimer is not only one model but a concept on which the brand now wants to capitalise: the pilot's watch. The Navitimer, as a collection, will indeed include the Navitimer 1 – the historical model with a sliding rule – and the Navitimer 8, a different, slightly simpler and more utilitarian take on the concept.
Looking closely at the new Navitimer 8, there are still a few details that consolidate the link between this new watch and the "historical" Navitimer. For instance, the lugs (that you can clearly see above) adopt the same overall shape as the existing model, yet they are slightly more compact. We leave you to decide whether or not this "Navitimer 8" sobriquet is relevant, but now you have the tools to make up your mind.
What does the Navitimer 8 
represent for Breitling?
Interesting question… What does this watch mean for Breitling – apart from the fact that it represents sales and margin (obviously)? If you look at what the brand is today, you'll see that it enjoys immense international recognition. It is one of the most powerful names in the watch industry. At least it is in the Western part of the world. Breitling is successful in Europe (Germany and France, for instance) as well as in the US, where large pilot watches (the Navitimer first) sell very well. Yet, it shouldn't be forgotten that the current best-seller in the collection is the Superocean Heritage II, equipped with a Tudor-based movement.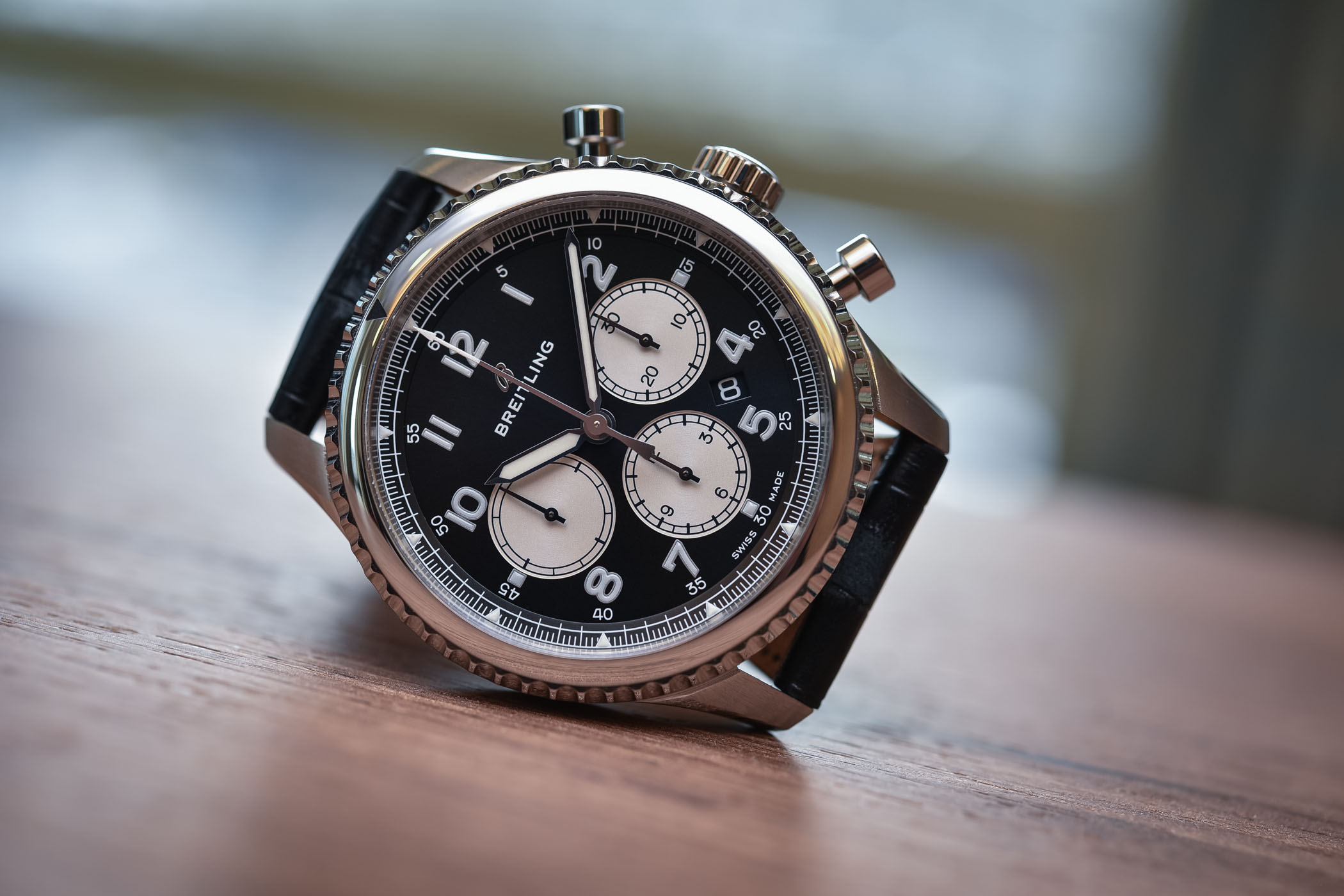 Breitling, however, has a weakness: Asia. Watch brands can't ignore Asia, which is one of the largest markets in the world, if not the largest. Yet, the brand's sales in this region are much lower than in Western countries. The Breitling Navitimer 8 is a possible answer to this issue. Smaller, or at least more comfortable on the wrist, less hardcore-aviation-oriented, slightly more modern and more subtle, it is designed (but not only) to gain market share in Asia. In addition to that, the number 8 isn't completely innocent (8 is a lucky number in China).
Finally, the Navitimer 8 is also a new take on the brand's roots, still aviation-oriented, less hardcore though. By that, we mean that this watch is a bit more "mainstream", a bit more of a crowd pleaser, able to talk to newcomers and not just those who already know the brand. Breitling will continue to manufacture the classic Navitimer with a sliding rule under the name Navitimer 1 – and we already know that new versions will be unveiled at Baselworld 2018 – and the Navitimer 8 will be introduced as an addition to the aviation collection, not a replacement.
The Navitimer 8 B01 itself
Let's now look at the Navitimer 8 itself. As we've explained, this watch has some Breitling DNA in its veins and it is clearly inspired by aviation. It is, however, a new take on the concept. No more sliding rule, claws or fully polished bracelets here. The Navi 8 is more understated, more in line with the current market. This doesn't mean that we're not in front of a robust pilot's watch.
The edition we chose to look at, the one equipped with the B01 manufacture chronograph movement, best defines the idea behind this collection – remember that no less than five different models are introduced (see here). It has a respectable diameter of 43mm – and in that, it is still a Breitling – however, the case is mostly brushed and features shorter lugs. This means a more utilitarian look and feel, as well as a watch that, despite its robustness (13.97mm thick), remains wearable even for men with slimmer wrists or younger customers.
This edition, which is supposed to be the flagship as well as the most "luxurious" variant, features several polished accents on the case – pushers and crown, bezel, sides of the lugs. This gives a more "upmarket" feel to the watch, without making it too flashy. This B01 version is available in several variants – on a steel bracelet, on leather, with a blue or black dial, or in gold with a bronze dial. An interesting point concerns the water-resistance. While older Breitling watches are known for their poor resistance to external elements, the watches are water-resistant to 100 metres making it a pilot's watch that can also be used to jump in the pool.
The dial is a "reversed panda" style – which will be a distinctive feature of all chronographs with in-house movements, while the Valjoux-based watches will have a monochromatic dial. Just like the case, a utilitarian choice has been made. No more B on the counterweight of the second's hand, no applied indexes, simple yet legible numerals, clear railroad tracks. The hands, with their faceted profile and polished surface, give a more dynamic look.
Inside the case of the Navitimer 8, there are no surprises. We find the efficient, modern and well-tested B01 movement. This in-house calibre is an integrated chronograph, with column-wheel and vertical clutch, a modern and technically interesting combination that is used for high-end movements. The 70-hour power reserve is comfortable and calibre B01 is, as always with Breitling, COSC-certified. The movement is visible through the sapphire case back and is pleasantly finished, with Geneva stripes, perlage, and polished bevels.
Note: the watch in this article is a prototype. The strap shows signs of premature wear, especially between the lugs. This issue will be solved on production pieces.
Conclusion
What can we conclude about the Breitling Navitimer 8? In short, it is a well-thought, well-produced and well-priced pilot's watch. It was also quite a surprise for the brand's aficionados, as being a rather dramatic change of strategy, as well as being an entirely new design. Certainly, this is not a watch made for long-time, hardcore collectors. It is a watch that is meant for the public at large, a watch created to please a larger audience, to gain market share in (almost) unexplored territories.
Before applauding or blaming Kern and his team, we need to see what the brand will introduce in the near future. We know that the new team is working on both the heritage and the future, as well as recreating the link between the two. There's some work to do and finding the right balance between pleasing fans and conquering new clients isn't easy. More details on www.breitling.com.
https://monochrome-watches.com/breitling-navitimer-8-b01-chronograph-review-specs-price/