Introducing
The Blancpain Tribute to Fifty Fathoms No Rad (Live Pics & Price)
A tribute to one of the coolest vintage Fifty Fathoms.
If you know your dive watch history, the name Fifty Fathoms No Rad (for no radiations) should be familiar. In fact, it should even ring the bell twice. One, when Blancpain was a supplier to the navies of numerous armed forces worldwide, with a military Fifty Fathoms delivered to the Bundeswehr, the iconic and rare "BUND No Rad." Second, as a limited edition launched in 2010, the 5015B Tribute to Fifty Fathoms. Well, today, the No Rad is back, with a limited edition watch, a homage to this mid-1960s diving instrument, with the new Blancpain Tribute to Fifty Fathoms No Rad. And not only it is different from the 2010 edition, but it also is even more attractive!
No Rad, from the mid-1960s to 2010
In 1953, Blancpain and its president, Jean-Jacques Fiechter, presented a watch that will be known as one of the earliest (if not the first) modern dive watch, the Fifty Fathoms. Fiechter was an avid diver himself and thus decided to create a watch that would suit his needs. Named after its water-resistance (50 fathoms, or about 300ft.), the concept proved so effective that the watch will become an inspiration for dozens of upcoming watches (both visually and technically) and will soon be adopted by numerous armed forces worldwide, such as the French Combat Swimmers as soon as 1953, under the commandment of Robert "Bob" Maloubier.
The combination of water-tightness, strong low-light legibility, practicality and safety of the rotating bezel and overall robustness of the watch made it a premium choice for military forces and professional divers. For instance, the US Navy or the Polish Navy both adopted the watch. In addition to that, Blancpain developed in the mid-1960s a watch for the German military – or "Bundeswehr" – the so-called Fifty Fathoms RPG 1 model, or "Bund No Rad." This watch equipped the "Kampfschwimmer", the elite German frogman commando unit, until the early 1970s. The distinguishing attribute of the RPG 1 model was the "no radiations" logo found at 6 o'clock on the dial.
When first presented, the Blancpain Fifty Fathoms, like most watches back then, relied on radium for its luminescence. However, radium started to be seen as dangerous and was declared harmful to health in the early 1960s. To replace it, most watch manufactures started to use tritium, another radioactive material, however in far lower proportions. To reassure professional divers, as well as experienced amateurs who purchased their Fifty Fathoms watches from specialist equipment providers (such as Aqua Lung), Blancpain thus decided to clearly indicate that its timepieces were radium-free. The special symbol consisting of three red segments on a yellow background with a black cross was accompanied by the words "no radiations" designed to ensure that the message was easily understood. The same logo subsequently appeared on the Fifty Fathoms RPGA 1 model, a calendar-based variant of the "BUND No Rad."
These "No Radiations" Blancpain, with their dial indicating the absence of radium, have since become highly collectable. For this reason, the brand presented in 2010 a watch paying tribute to these "No Rad" watches, with the ref. 5015B Tribute to Fifty Fathoms. Based on the classic model, with a 45mm diameter, it was presented with a fully graduated bezel (not just the first 15 minutes) and a dial with painted markers and a "No Radiations" logo at 6 o'clock. It was limited to 500 pieces and equipped with the in-house Calibre 1315.
The 2021 Fifty Fathoms No Rad
This year, Blancpain presents another commemorative watch, paying tribute to some of the most sought-after and rare editions of its iconic dive watch, the Fifty Fathoms. Following the Tribute To Fifty Fathoms MIL-SPEC in 2017, the "Nageurs de Combat" Limited Edition and the Barakuda Re-Edition both in 2019, we now have a new edition of the Fifty Fathoms with a "No Radiations" dial, the new Blancpain Tribute to Fifty Fathoms No Rad. And yes, there are some major differences with the edition of 2010.
Instead of saying differences, I should say very good news… At least, in my opinion, this new edition of the Fifty Fathoms No Rad has far more arguments than the 2010 model. Overall, we're in known territories, as this watch shares many elements with the 2019 Fifty Fathoms Barakuda. First and foremost, it comes in a far more compact case. Indeed, this No Rad is now 40.3mm in diameter and 13.23mm in height (when the 2010 version was 45mm x 15.50mm). The case is typical Fifty Fathoms. It is made of polished stainless steel, it features short, curved lugs, it is water-resistant to 300m, it comes equipped with a screw-down crown protected by guards and it has a sapphire caseback. It even has lug holes, practical for those who want to change the strap… A small detail, but always appreciated.
This largely reduced diameter is, in our books, highly desirable. Fun fact, this tribute model is even smaller than the original 1960s watch, which was about 41mm in diameter. One important thing to note is that we're not here talking here about a proper re-edition, but a tribute watch. The case is thus contemporary-shaped and only some visual elements are here to recall the old No Rad watches. Nothing to complain about though. Thanks to a compact case, the watch is a joy to wear and feels comfortable. Two comments, however. One, we would have preferred a brushed case for a more instrumental look. Second, the "Blancpain" engraving on the caseband could be removed.
Continuing with the case and the habillage, the watch is equipped with a distinctive element of all modern Fifty Fathoms, its domed and glossy sapphire crystal bezel's insert. However, the unidirectional bezel here has a finely notched profile and not deep grooves like classic models. Also, as a tribute to vintage Fifty Fathoms No Rad models, this limited edition comes with a fully graduated 60-minute scale with a triangle at 12 o'clock – and not a detailed scale only from 0 to 15 minute, and a diamond marker. The dial is protected by a highly domed glassbox-type sapphire crystal, which in conjunction with the sapphire bezel, provide attractive distortions and a pleasant sense of depth.
The main specificity of this Blancpain Tribute to Fifty Fathoms No Rad is, of course, its "No Radiations" dial. Once again, if the look is familiar and classic FF traits are present, the watch is also different from the rest of the crowd. First, the dial is flat and matte, when the 2010 edition had a two-tone brushed black dial. This reinforces the vintage/military look of the watch. Second, it features distinctive geometrical hour-markers, combining traditional round dots as well as rectangles and a diamond-shaped mark at 12 o'clock – all being found on 1960s No Rad watches. The hands, painted in white, are also paying tribute to past watches and are more in line with what you'd expect from a toolish vintage diver's watch.
What really matters in this limited edition is, as you'd expect, the "No Radiations" logo printed at 6 o'clock. This yellow and red element can't be unseen and is the dominant element on the dial. To enhance the retro style of the watch, the luminous elements of the dial – hands and markers – have been executed with old radium-coloured Super-LumiNova (so yes, this watch really is without radiations…) Finally, a date window has been positioned at 3 o'clock and is framed by a bold white rim. At least, it doesn't try to hide its date complication and the look is consistent with the rest of the dial.
Under the screwed sapphire caseback is a well-known movement, the in-house Calibre 1151. Used in various Fifty Fathoms models, it is a modern self-winding engine with loads of energy. It is equipped with two barrels and stores up to 100 hours (about 4 days) of power reserve. Also, it is fitted with an antimagnetic balance spring and it ticks at a 3Hz frequency. The movement is pleasantly finished, with Geneva stripes and polished bevels, as well as a blackened oscillating weight with a cartouche-shaped aperture.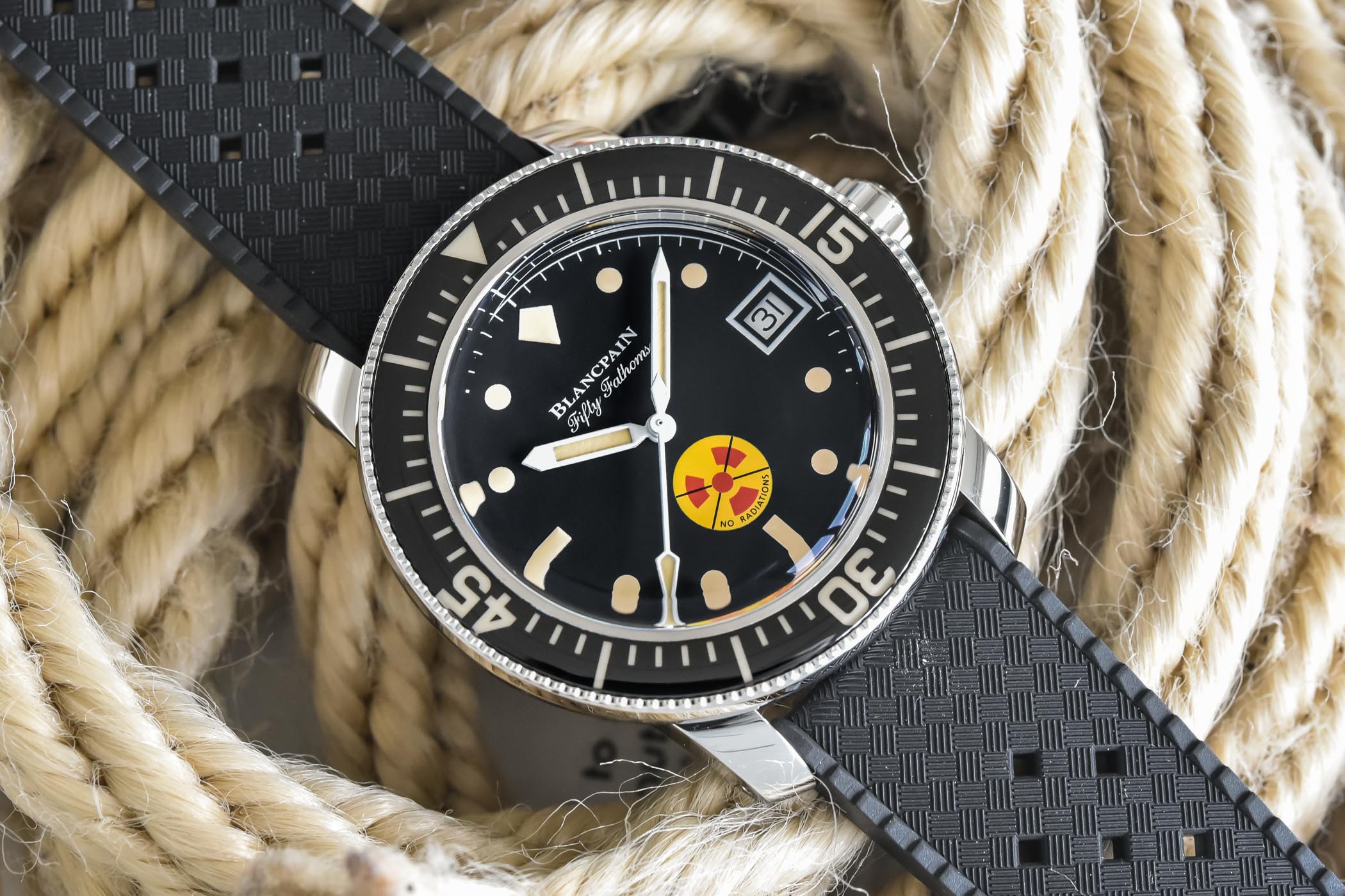 This new Fifty Fathoms No Rad is worn on a black, tropic-like rubber strap secured by a steel pin buckle, a choice that is in line with the 1960s look of the watch.
Availability & price
The Blancpain Tribute to Fifty Fathoms No Rad (ref. 5008D-1130-B64A) is a limited edition of 500 pieces. It will be priced at EUR 13,180, CHF 13,200 or USD 14,100.
For more details, please visit blancpain.com.
https://monochrome-watches.com/blancpain-tribute-to-fifty-fathoms-no-rad-2021-limited-edition-5008d-review-price/