F.H. Bennahmias, CEO of Audemars Piguet, about coming classical collection and integrated chronograph – Exclusive video interview for Monochrome – SIHH 2016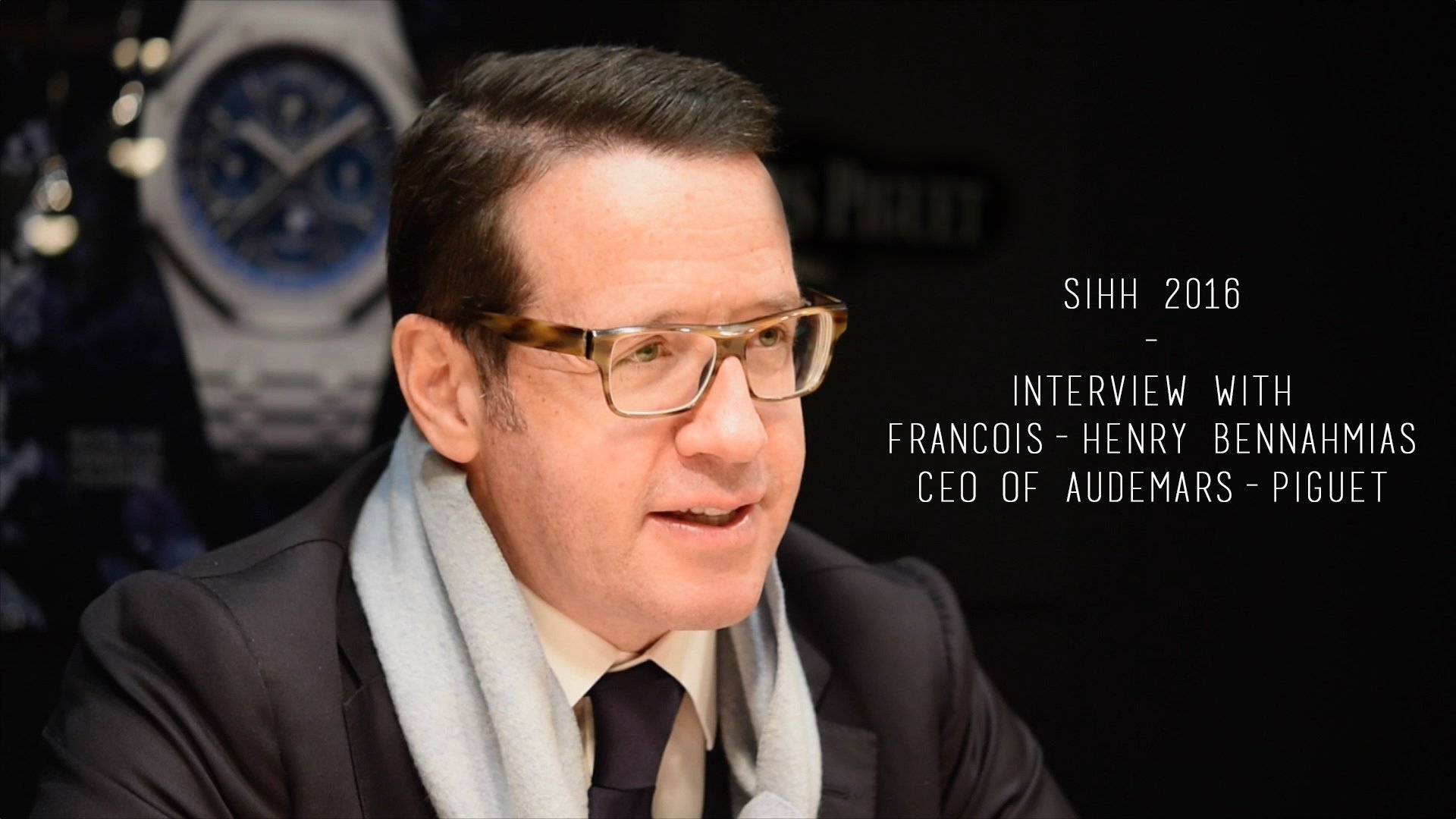 When it comes to interview CEOs of brands, usually, we end up with a lot of nice words and some marketing speeches. Telling the truth and giving proper insights on the state of the watchmaking industry or on what a brand is about to launch, what are the coming developments, is not the rule. However, the interview you're about to look at is slightly different. One thing is sure; François-Henry Bennahmias isn't shy to tell the truth and to give us some very interesting clues on what Audemars Piguet is working on for the coming years. New classical line of watches, new integrated chronograph movement and coming trends. Here are the subject exposed in this exclusive video interview with François-Henry Bennahmias, CEO of Audemars Piguet, during the SIHH 2016.
What are the things to keep in mind here? First of all, what we were expecting is going to happen. Audemars Piguet is actually working on a new classical line, dressier watches that will both look at future – with a contemporary design – and at the past. When François-Henry Bennahmias, CEO of Audemars Piguet, says that they will look at what they've been doing during the 1920s, 1930s, 1940s and 1950s, he's actually referring to the complications used by Audemars Piguet at that time; meaning minute repeaters, slim perpetual calendars, nice chronographs or jumping hours watches. Don't expect however this new classical line in 2016 but more likely at the SIHH 2017 or the SIHH 2018.
[bctt tweet="We (@AudemarsPiguet) are working on a new classical line, that will come soon (F.H. Bennahmias, CEO of AP)"]
The second and important lesson to learn from this interview with François-Henry Bennahmias concerns the development of a new integrated chronograph movement. For quite some years now, the rest of the high-end industry (including main competitors of Audemars Piguet, like Patek Philippe or Vacheron Constantin) are using in-house, self-developed and integrated chronograph movements. On the other hand, Audemars Piguet, for several chronographs, still rely on a modular chronograph movement, like seen in the 2014 Royal Oak Offshore Chronograph or the 2016 Royal Oak Offshore Diver Chronograph. We now have the confirmation that there will be a brand new chronograph integrated movement, as well as a brand new automatic movement (that could replace the Calibre 3120), soon. In fact, this new chronograph integrated movement will be released in the new classical line. Last but not least, we also have the confirmation that this new chronograph integrated movement by Audemars Piguet isn't anymore just a project but the movement is in development and already beating. So, as Mister Bennahmias says, it's "very close"… Finally, we also know now that this movement will be in line with the actual production of Audemars Piguet, meaning a nicely finished movement "supposed to be made in quantities", something that clearly states for a movement replacing the 3120 based modular movements.
[bctt tweet="We (@AudemarsPiguet) will launch this new integrated chronograph in the new classical line, soon (F.H. Bennahmias, CEO of AP)"]
Finally, when talking about the state of the industry, we also learn from François-Henry Bennahmias that even if the high-end segment (average price of 20,000 Swiss Francs) is showing a decline of roughly 5% in 2015, Audemars Piguet showed growth during that same period. However, Mister Bennahmias also indicates that AP will recap its production for the coming months. Audemars Piguet will "think quality and not quantity" and will probably focus more on developments.
Thank you to François-Henry Bennahmias, CEO of Audemars Piguet for giving such answers. www.audemarspiguet.com.
https://monochrome-watches.com/bennahmias-ceo-audemars-piguet-coming-classical-collection-and-integrated-chronograph-video-interview-sihh2016/