The Perfect Summer Luxury Watch? The Audemars Piguet Royal Oak Offshore Diver Funky Colors Reviewed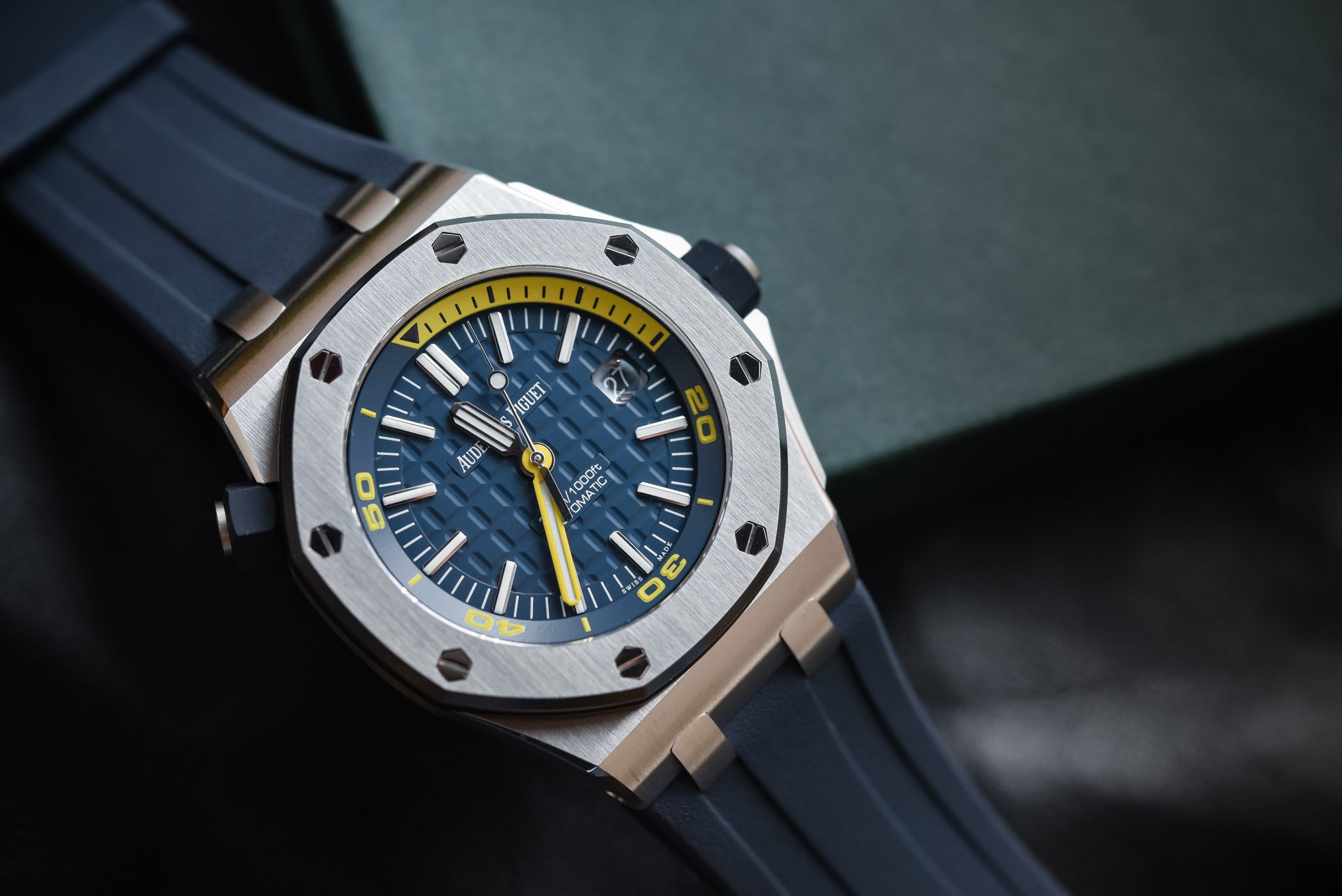 The summer is here. That means our thoughts turn to the seaside, sunshine, heatwave, mojitos, yacht deck, beach parties… and of course, what watch to wear this summer? You probably don't want to take your treasured extra-flat, gold perpetual calendar watch out there. So, you'd likely be leaning towards some kind of dive watch, as it would be the best option, both to look classy, and to be able to jump in the pool without having to think about your watch. You're on the right direction. But do you want to be part of this growing group of Submariner wearers? Maybe not, and thus, Audemars Piguet might have a pleasant and bold option for you, with the new Royal Oak Offshore Diver Funky Colors.
Background
First of all, to understand the new Audemars Piguet Royal Oak Offshore Diver Funky Colors 2017 Collection, we have to reflect on some of the watches that compose the Royal Oak Offshore – or ROO – collection (a collection born in 1992, as a sportier and bolder evolution of the 1972-born Royal Oak). In 2015, Audemars slightly redesigned the Royal Oak Offshore Diver with the introduction of a new ref. 15710. No drama, no big move here, as the base recipe did not require much alteration. For this new reference, AP chose to only update the model, by giving it an extra color (white, in addition to the black dial version), and the addition of a sapphire caseback, to reveal the calibre 3120.
Then, at the SIHH 2016, Audemars Piguet introduced new versions of the Royal Oak Offshore Diver Chronograph (ref. 26703ST), with bold and bright colors. Yellow, orange, lime green or blue/yellow were available, with all of them on matching rubber straps. Colorful, very colorful, and popular too, as this new collection was more successful than we expected. Thus, for 2017, Audemars Piguet has decided to merge the ROO Diver and the colors of the Diver Chronograph, to create the 2017 Royal Oak Offshore Diver Funky Colors Collection. And it's not 4 watches like the chronograph, but 5 that Audemars is presenting:
White dial, blue indexes and hands, blue scale, blue rubber crowns, white rubber strap – ref. 15710ST.OO.A010CA.01
Blue dial, white and yellow indexes and hands, yellow scale, blue rubber crowns, blue rubber strap – ref. 15710ST.OO.A027CA.01
Yellow dial, white indexes and hands, blue scale, blue rubber crowns, yellow rubber strap – ref. 15710ST.OO.A051CA.01
Orange dial, white indexes and hands, blue scale, blue rubber crowns, orange rubber strap – ref. 15710ST.OO.A070CA.01
Lime Green dial, white indexes and hands, blue scale, blue rubber crowns, lime green rubber strap – ref. 15710ST.OO.A038CA.01
Just like the colorful collection of the Diver Chronograph, these watches are bold and loud… Very loud for some of the versions. Of course, this means that it won't please all collectors, and that it will require a certain confidence to wear them (especially the yellow, orange and lime green versions). Yet, these colors do not feel out of context in the case of the ROO. It is the kind of watch that actually "accepts" to be bold and flashy, and as with the chronograph versions, the result is surprising at first, but ends up in being quite desirable. Let's look at this watch more in details.
The case
Besides being priced over 20,000 Euro, besides its overall luxurious feel and besides the name that is printed on their dials, these new and colorful ROO Diver watches are still essentially what is indicated in their names: diving tools. Even if some owners will be quite reluctant to bring such expensive pieces underwater, and to treat them as recreational watches, that's what they are designed to do. The overall construction of the Royal Oak Offshore Diver is extremely solid, and you can properly feel that quality when on the wrist. It's a massive, rugged and sturdy block of stainless steel. Adjustments on the case are precise and the overall assembly is what you would expect from such a high-end watch.
The case is also sporty and perfectly adapted to recreational diving sessions. The crown is well protected by a large piece on the side of the case, and is coated (as well as the second crown at 10) with rubber, to help using it, even with wet gloves. However, you'll never forget that even if it's a dive watch, even if it's part of the Offshore collection, this watch is after all a Royal Oak, and thus its finishing is top-notch. The case alternates between polished and brushed surfaces, with clear distinction between these areas. Like all RO, it is precise, very well executed and offers this surprising combination of sturdiness and quality, with a delicate finishing.
These Audemars Piguet Royal Oak Offshore Diver are built to withstand 30 bar of pressure (300m underwater), and benefits from all the required elements that a dive watch should have. Unsurprisingly there's no external rotating bezel on this watch – in fact it would be quite odd to have an octagonal rotatable bezel, and one with a diving scale engraved would certainly ruin the signature design of the RO. Thus, the solution found by AP to calculate elapsed times is an internal rotating chapter ring, on the periphery of the dial. It is actuated by a second crown, positioned at 10. Admittedly it might be less practical than an external bezel, but it certainly does the job – and clearly, design-wise, this solution is certainly the best one. Thus, the Royal Oak Offshore Diver watches retains the octagonal bezel with 8 white gold screws on each corner.
In terms of experience on the wrist, it has to be reminded that the ROO doesn't wear like a standard watch. While on paper, the proportions feel rather restrained for a dive watch (let's say that it's on the average side), the 42mm diameter and 14.1mm height are not clear indications of the feeling you'll get when wearing this watch. With its monobloc case, with integrated lugs, and its quite massive shape, the ROO Diver wears much larger than an equally sized Tudor Pelagos for instance. It has more presence on the wrist, yet it remains extremely comfortable and gently "hugs" the wrist.
The dial
The main evolution for the 2017 collection is on the colors, as apart from this, the rest of the watch remains faithful to the previous black or white dial versions of the Royal Oak Offshore Diver. Thus, we have the classical squared texture, here with large "Méga Tapisserie" pattern (not hand-guilloche here but classically stamped). Indexes are crafted in white gold and applied onto the dial, and the hands use the classical, marginally oversized, RO design. Both are filled with enough luminous material to offer a good night-time legibility, and their shape and dimensions are generous enough to provide the required contrast during the day. Overall legibility is very good, whatever the color you choose. Same goes for the date, which is placed under a magnifier and thus easily readable.
As said in the introduction, the Audemars Piguet Royal Oak Offshore Diver Funky Colors Collection comprises 5 different options for the dial – all with a matching rubber strap. Two of them are rather classical and quite easy on the wrist – the white dial with blue indexes and hands certainly is the more understated. Three of them are, on the other hand, as bright as you can imagine. Yellow, Orange, Lime Green… All of them using white-filled indexes and hands, as well as blue tracks. However, as these ROO Diver are to be considered as weekend / summer watches, and not daily business-oriented timekeepers, a bit of color is not that of a bad option. Of course, the latter three will require some confidence, but the result actually befits the Royal Oak quite well.
The movement
Here, no surprises. Inside the Audemars Piguet Royal Oak Offshore Diver Funky Colors watches is the brand's widely-used Calibre 3120 – as seen in the RO Automatic 15400, the ROO Chronograph and Diver Chrono (as a base calibre), and of course in the other ROO Diver watches. The 3120 is a self-winding movement, with a central rotor in gold, and has a classical, yet solid architecture. It ticks at a frequency of 21,600vph, it has a balance with variable inertia blocks, it features 40 jewels (which is quite high for a time-and-date movement), overall 280 parts and boasts a comfortable 60h power reserve.
Finishing and decoration are as always carried out to  a very high standard, with diamond-polished bevels, Geneva stripes, polished countersinks and nicely engraved rotor. Yet this movement would be even more pleasant to look at if it were not for one issue: its small diameter. Indeed, and even if this has no influence on its efficiency, this calibre 3120 measures only 26.6mm in diameter (11¾ lignes), which considering the 42mm diameter of the case, leaves an impressive amount of steel around it. This can be explained by the relatively old conception of the Calibre 3120 (first designed in 1998, with a serial production started in 2003), when watches were smaller. This, however, doesn't remove any of the beauty of this engine, considered as one of the best time-and-date automatic movement available.
Conclusion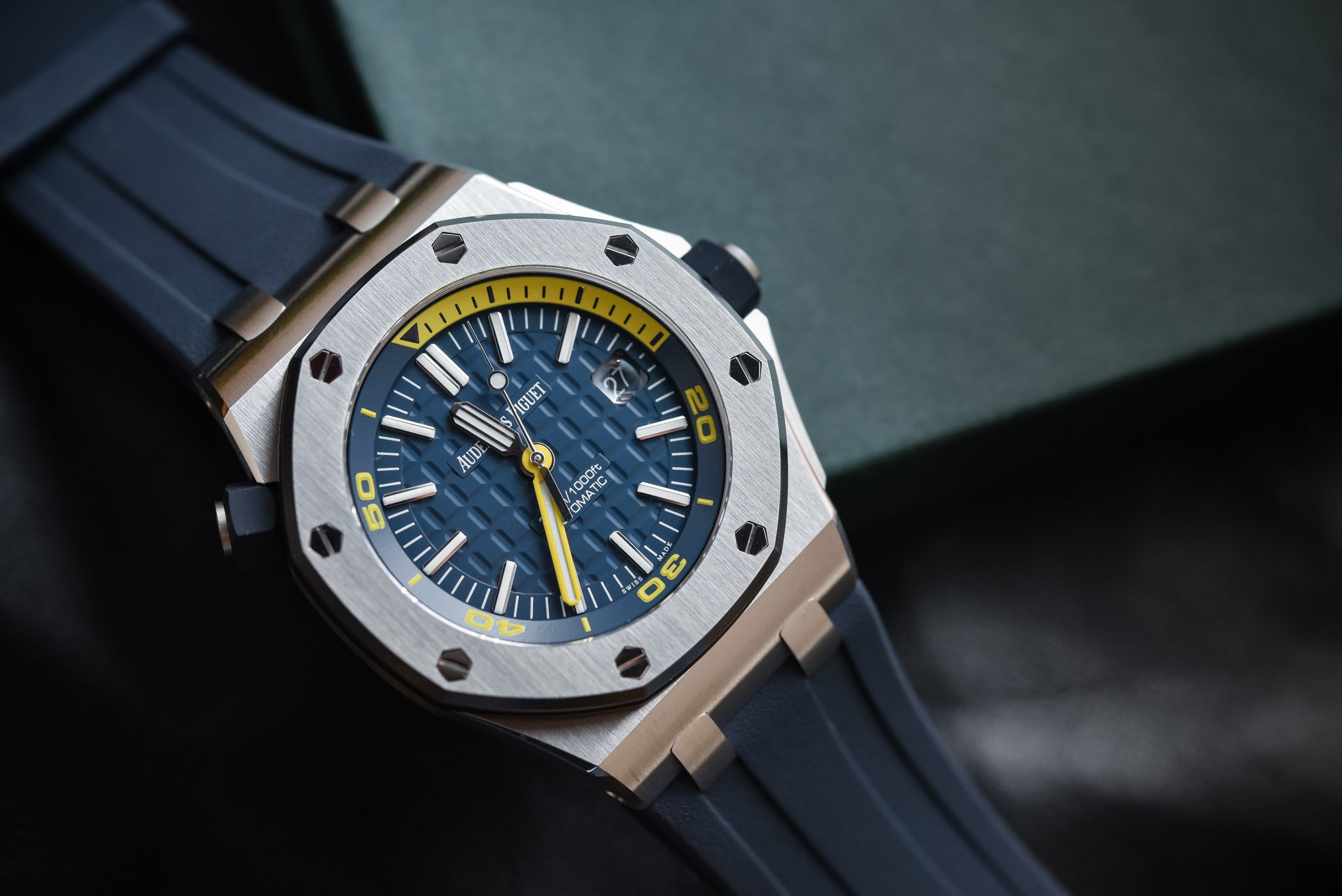 The Audemars Piguet Royal Oak Offshore Diver Funky Colors Collection is, overall, no big surprise. With the exception of the colorful dials, it remains the sturdy and robust dive watch we've been used to now for a few years. Yet, it still pleases by this combination of robustness and luxury. Indeed, despite the delicate finishings and well-decorated movement, it is nonetheless a performance dive watch, which can comfortably withstand some recreational diving sessions (or a splash of Aperol Spritz…)
I leave it to you to be the judges of these colorful dials, as clearly, the orange, yellow and lime green versions must be regarded as bold and personal choices. I'll personally go for the blue or white versions, yet I'm sure some will have the assurance to go for the 3 others – and they will be right to do so. To conclude, if you are looking for a real luxury watch, with an iconic DNA, but which is equally at home during active sports and summer activities, consider this Audemars Piguet Royal Oak Offshore Diver as a pretty good offer – even if not a cheap one, as priced at 19,300 Euro (white version) and 20,200 Euro (for the 4 other models). More details on www.audemarspiguet.com.
Pros
Superb execution of the case
The DNA of the Royal Oak, mixed with a sturdy dive watch
Large but comfortable
Legibility is not impacted by the bright colors
Nicely decorated and performing movement…
Cons
… but too small for the case
These colors won't be to everyone's liking
The ease-of-use of the internal bezel is debatable
---
Specifications – Audemars Piguet Royal Oak Offshore Diver Funky Colors
Case: 42mm diameter x 14.1mm height – stainless steel, polished and brushed, 8 white gold screws on the bezel – sapphire crystal on both sides – internal rotatable diving scale – 300m / 30 bar water resistant
Movement: Calibre 3120, in-house – self-winding – 3Hz frequency – 60h power reserve – 280 components – time and date
Strap: Rubber strap matching the dial of the watch, steel pin buckle – additional blue rubber strap included
Reference: 15710ST.OO
Price: 19,300 Euro (white version) and 20,200 Euro (blue, green, yellow and orange models)
Availability: Special Editions – White and Green versions being Boutique Exclusive
https://monochrome-watches.com/audemars-piguet-royal-oak-offshore-diver-funky-colors-2017-review-price/