Pre-SIHH 2017 – Audemars Piguet Royal Oak Frosted Gold 37mm (and why, as a man, I really like it)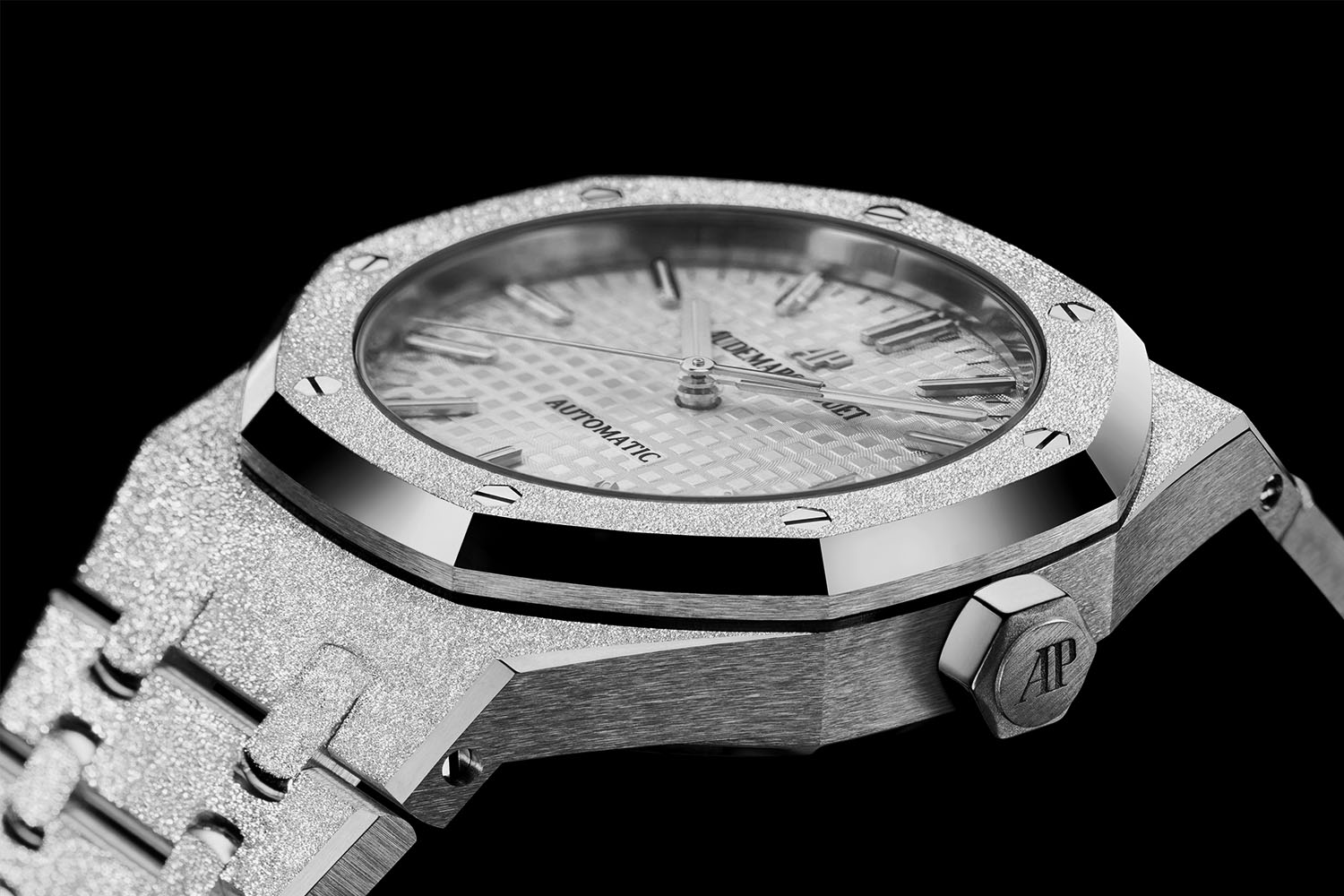 Yes, this watch is advertised as a ladies' watch. Yes, it does celebrate 40 years of Royal Oak for ladies (as the first one was introduced in 1976 and designed by Jacqueline Dimier). But, on the other hand, this watch has everything of the iconic 1972 Jumbo and the current 41mm men's version, just in a smaller 37mm case –  which isn't that small in reality. It has the iconic Genta-look, it has the hand-guilloche dial, it has an in-house automatic movement and, that's the novelty here, it comes with a superb surface finishing, named gold hammering or frosting, and that is really appealing to us. Overview of the Audemars Piguet Royal Oak Frosted Gold 37mm.
The first Royal Oak for ladies, launched in 1976, designed by Jacqueline Dimier (in-house head of design at Audemars Piguet)
As a preview for the 2017 edition of the SIHH, Audemars Piguet just released this watch, and usual fact for Monochrome-Watches, we will indeed cover a ladies watch. However, as a watch lover, I always had a soft spot for the 37mm version of the Royal Oak. This watch has all the iconic attributes of the large "jumbo" version: its design is in all points identical, its shape and finishes are equally superb, the dial is hand-guilloche with the "Grande Tapisserie" pattern, it has the great integrated bracelet and the same automatic movement, Calibre 3120, than the 41mm edition. it just differs in terms of size, with 4mm less, which slightly changes the perception on the wrist, making this watch at the same time a bit bulkier (different diameter / thickness ratio) but also more elegant and easier to wear, even for a man. 37mm is not small, especially for such a watch, which definitely feels larger than advertised.
Indeed, as a man, I do love the 37mm – and most definitely, many women will do too. And now, Audemars Piguet comes with a new version, featuring an incredible finish on the flat surfaces – on top of the bezel and on the flat parts of the bracelet and the case. The technique used here is named frosting, gold hammering or Florentine technique. To test and try on prototypes, Audemars Piguet and Carolina Bucci (the jewellery designer behind this idea of a frosted Royal Oak) started with the antique manual solution, with a diamond-topped tool (a technique frequently used in jewelry). The brand is currently working on the development of a more industrialized process in order to increase precision. Applying this surface treatment technique across the case and bracelet of the watch without altering the clean lines that define the Royal Oak's form is the first challenge. Then the original gradating bracelet construction also demanded that the order in which the finishing done by hand (polishing and satin finish) is executed, be reconsidered for the whole bracelet. This is explained by the "strength" of the treatment applied, much deeper than a traditional brushing.
Of course, there's a bit of sparkle here, as the surface won't be as "technical" as the usual brushed surfaces of the Royal Oak. However, even if this Audemars Piguet Royal Oak Frosted Gold will definitely talk to women, I'm sure some men will dive into this frosted surface, and to be honest (and I still have to experience it in the metal), I'm one of them. The Audemars Piguet Royal Oak Frosted Gold 37mm will be available in two version: a rather lady-oriented 18k pink gold with silver dial (ref.15454OR.GG.1259OR.01) and a more versatile 18k white gold version with rhodium-toned dial (15454BC.GG.1259BC.01). Prices are not revealed yet. Audemars Piguet will keep them silent until the opening of the SIHH 2017. audemarspiguet.com.
Specifications of the Audemars Piguet Royal Oak Frosted Gold 37mm
Case: 37mm diameter x 9.80mm thickness – Hammered 18-carat gold – Pink or White gold – Sapphire crystal on both surfaces – water resistant to 50m
Movement: Calibre 3120, in-house – self-winding – 60h power reserve – 3Hz frequency – hours, minutes, seconds and date
Bracelet: Integrated Hammered 18-carat gold with folding clasp
Reference: 15454OR.GG.1259OR.01 (Pink Gold) – 15454BC.GG.1259BC.01 (White Gold)
---
Note: Audemars Piguet will also introduce a 33mm version of this Royal Oak Frosted Gold, this time with a quartz movement, entirely dedicated to women. it will be, like the 37mm version, available in pink gold and white gold, on gold bracelet. Details on the official website here.
https://monochrome-watches.com/audemars-piguet-royal-oak-frosted-gold-37mm/