A Visit to The Hour Glass' Malmaison Boutique in Singapore
Singapore has a host of attractions to lure business and leisure travelers. Boasting a population that is virtually 100% watch enthusiasts, the city-state can claim a boutique that takes luxury living to the next level! 
Over the Chinese New Year's holiday I was in Singapore with my family. ANY trip to Singapore necessitates at least one jaunt to Orchard Road to look for my two vices, watches and fountain pens. It was on that jaunt that I came across Malmaison. The façade and window display had enough to lure me in: several high-end brands of watches and a large sign signifying that it was part of the Hour Glass group of stores.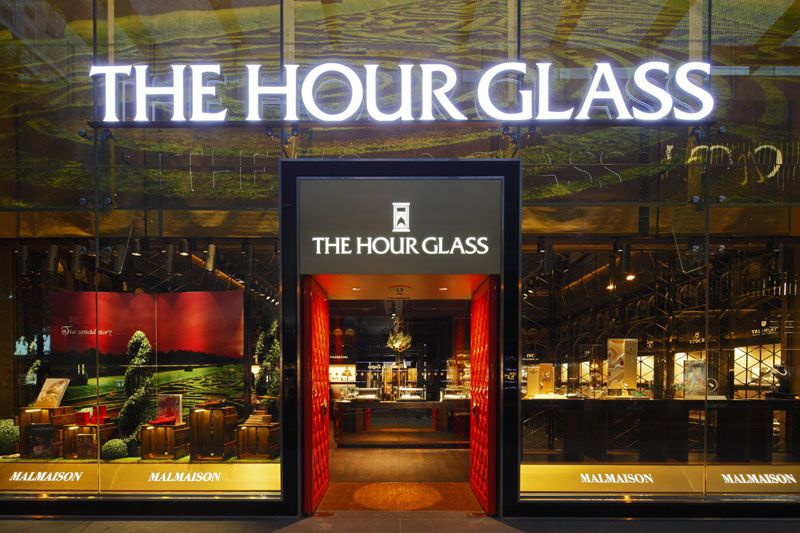 (For those of you who do not know the Hour Glass, they are the top retailer of luxury watches in Singapore, and have outlets throughout Southeast Asia.)
Walking in you are greeted by familiar 'faces': Hublot, Panerai, IWC, Cartier, Alain Silberstein…etc. But, looking at the unusual and ornate décor of the entrance hall I got the pronounced sensation that this was not just an ordinary watch retailer and with good reason: Malmaison is NOT a watch boutique. Malmaison intensifies the luxury retail experience with every single detail.
The interior of the store is designed to evoke the splendor of it's namesake; Chateau de Malmaison – the home of Josephine and Napoleon Bonaparte. Used as their private retreat from the hustle and bustle of building an empire, Josephine and Napoleon spared no expense or effort to make Malmaison a uniquely comfortable and luxurious place. Spread over two opulent floors in the heart of the shopping vector of Singapore, Malmaison (the boutique) endeavors to sell not just 'expensive' things but to sell refinement itself without regard for price!
Every detail in the store is genuine; from the aged floorboards to the 17th century clock to the wings on the birds and butterflies in the displays – it's all the real deal. Many of the fixtures and books are the property of the Tay family – items they've collected over the years. Everything they offer in the store is the genuine article too. Offering a selection of men's furnishings, shoes, fragrances, candles and books Malmaison carry ONLY the very best and the most exclusive. For instance:
Malmaison carry fragrances – for men, for women and for the home. That said – they only carry Editions de Parfums: Frederic Malle! Malle created a line of fragrances and scents in conjunction with the top noses in the industry. Their creations are less like any ONE single fragrance or scent and more like olfactory vignettes; they can evoke and sometimes even replicate the scent of a place or a season in extremely detailed ways. More 'the sensation of walking into Notre Dame Cathedral.' LESS like 'new car scent'!
There are candles on display throughout the entire boutique. The candles they offer are by Cire Trudon – the oldest candle maker in the world, used by the cathedrals of Paris and certainly the kind of thing you would have found in Josephine and Napoleon's storage closet!
Malmaison sell men's shirts, but only shirts from Charvet, Paris. Shirtmakers to Napoleon himself!
The shoes are by Pierre Corthay (custom-made)! The ties are by Rubinacci! The books on art, photography and architecture in the library are all Taschen. The furniture and displays inside the store are all custom made!
… I think you can see where I am going with this. If you had a lifetime to research every aspect of your life, choosing only the quintessential items you would find that Malmaison carry precisely those items.
The upstairs offers you even more space to relax and smell the roses! Used sometimes as a venue for entertaining groups. The dove-grey walls and ceiling made to imitate a top-floor skylight make the second level seem to spread out in all direction. There is a piano if you feel like crooning out a tune and there are sofas if you want to take a break and have some tea or coffee. Warning: The three large, glass tubes in the Frederic Malle concession are NOT time-travel devices. They are diffusion tubes, meant to present a perfectly balanced environment for you to test the scents! (That's how seriously they take it!)
Lest I forget – there are watches too! And oh my, are there watches! Being an outlet of the largest watch retailer in Asia affords Malmaison the ability to carry items you won't see frequently. And even if you could see some of them, you won't ever see them all in one place. Aside from the collection of watches in the entrance hall of the store (containing specially commissioned pieces by Hublot, Panerai, IWC…etc.) there are three more salons of watches.
The first is a Rolex boutique WITHIN the boutique along with a display of rare and vintage Rolex watches (Don't ask! They're not for sale!) Across the hall, past the Griffin, is the Patek Philippe room – where they carry only complicated pieces.
Down the hall, past the fossilized table is a room decorated floor to ceiling in blue, suede velvet!
In this room you will find exclusive pieces by larger makers like Audemars Piguet, Jaeger LeCoultre, Cartier, Richard Mille, DeBethune and Ulysse Nardin and a selection of haute horology masterpieces from the top independent houses. The effect of the lighting, the blue suede and being surrounded by so many incredible watches is actually hypnotic!
But there is no skullduggery afoot. The intent is not to trick you into buying something expensive – the desired effect is actually to give you breathing room to examine all the pieces and select the one piece that is going to enrich your life and collection.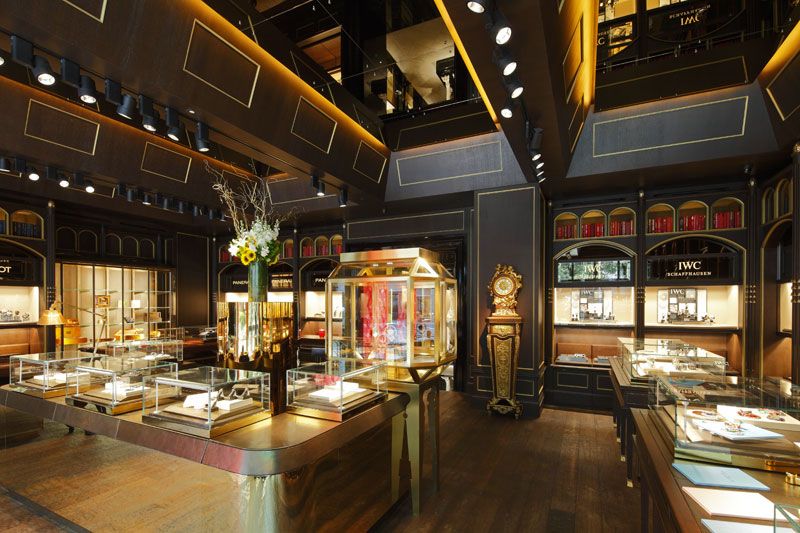 Executive Director of the Hour Glass Group (a watch retailing empire, if you will) Michael Tay has created something very special with Malmaison. It is a refuge from the constant distraction of low value goods disguised by high prices and slick marketing. It is not just a store that sells watches; it is a functioning, living, breathing portal to a place where there is time.
Here's a link to the Hour Glass website and if you're in Singapore… here's the address:
Knights Bridge, #01-01, 270 Orchard Road, Singapore
Telephone +65 68848484
Open: Mon – Sat : 11.30 am to 8.30 pm – Sun & Public Holidays : 11.30 to 8.00 pm
To end this article, I would like to recommend these two posts by Raphael Too, showing many, many beautiful photos of Mailmaison's interior: Visit review part 1 and visit review part 2.
This article was written by Mario Squillacioti, contributing writer for Monochrome Watches.
https://monochrome-watches.com/a-visit-to-the-hour-glass-malmaison-boutique-in-singapore/