Women's Watch Wednesday
A. Lange & Söhne Saxonia Thin Copper-Blue Dial
A Mesmerizing View Into Space...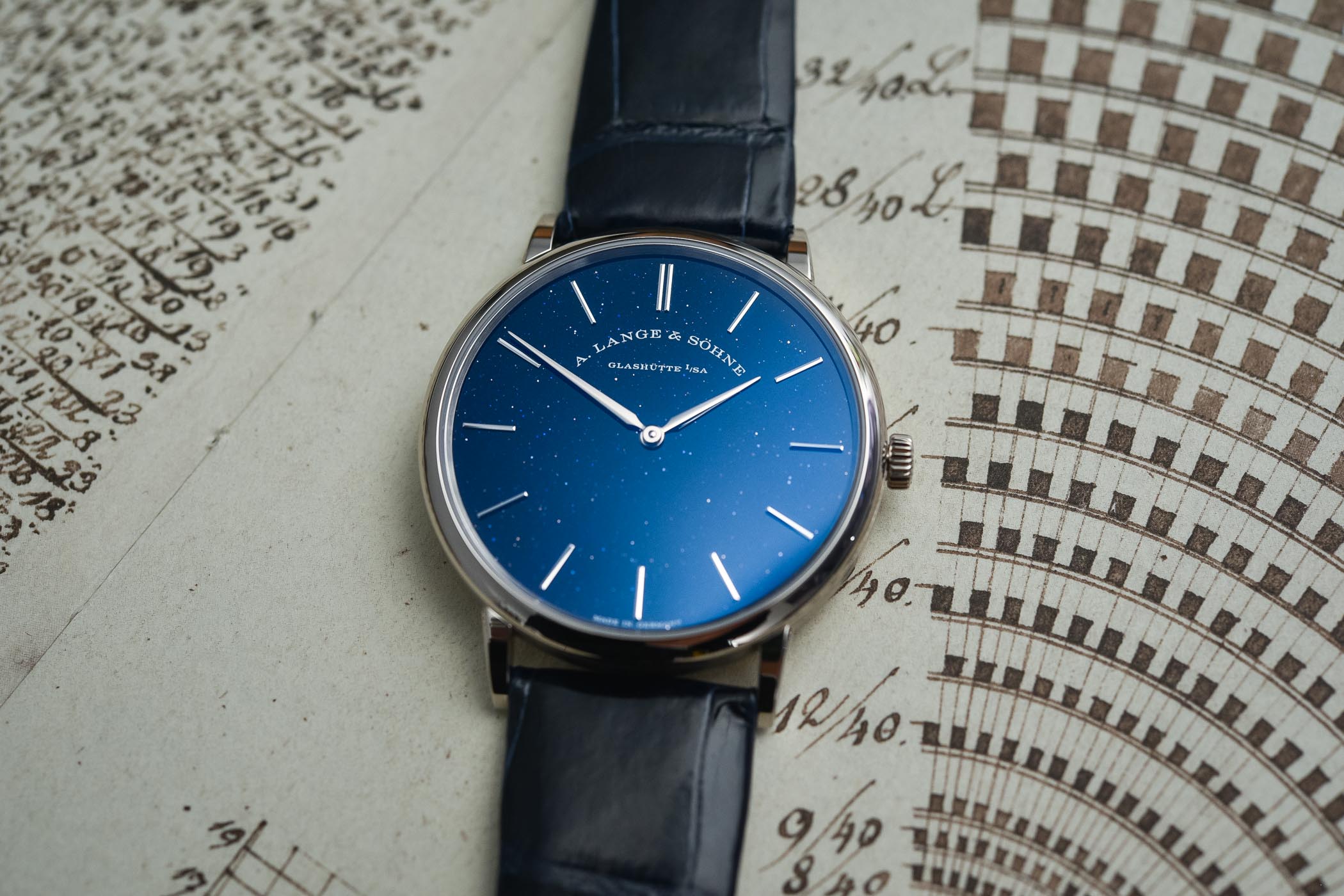 Anyone truly familiar with German watch brand A. Lange & Sohne can be considered an insider. Established in 1845 in the Saxony region of Germany, this Dresden brand was expropriated after World War II and nearly experienced extinction. However, after the Wall came down and Germany was reunified, Walter Lange, great-grandson of founder Ferdinand Adolph Lange had the vision to rebuild the brand in the early 1990's.
Today, A. Lange & Sohne boasts 62 manufacture movements and some of the most sophisticated complications on the market. Additionally, the brand's beautiful German designs and horological mastery yield true collector pieces. The Saxonia Thin, the brand's thinnest timepiece and its entry-level offer, is easily one of the most sought-after watches in its repertoire. Now, that coveted status rises thanks to the newest model, the Saxonia Thin with a copper-blue dial that yields an unparalleled celestial appeal.
Let's get one thing straight right out of the gate here, this newest Saxonia Thin watch is perfect for men and for women thanks to its 39mm size and rich dial. The 18k white gold case is thin enough at 6.2mm to slip easily under a cuff or suit jacket, as well as to complement the bare wrist of a lovely woman in the famed little black dress. This is a good thing because the dial of this two-hand watch – simple, clean and sophisticated – is definitely going to draw you in no matter who you are.
A. Lange & Sohne Saxonia Thin Copper-Blue Dial: Speculations Put to Rest
During SIHH earlier this year, when A. Lange & Sohne unveiled this timepiece, there was a lot of talk about the dial. What is it made of? Why are they calling it Copper-Blue?  Is it lacquer with goldstone or copper flecks in it? And so on and so forth, with several convoluted, not-so-accurate articles appearing in different media. So now, once and for all, we lay the conversation to rest. After a long conversation with Anthony De Haas, Director of Product Development for A. Lange & Söhne, the end result is that the stunning dial is a solid silver dial with a thin layer of aventurine glass carefully glued on.
Make no mistake; the dial of the A. Lange & Sohne Saxonia Thin Copper-Blue Dial is no easy feat to achieve. To begin with, there is the actual making of the aventurine glass sheet, which is accomplished by an outside supplier (sorry, A. Lange & Söhne does not have in-house glass makers, nor do most other manufactures). Using a process similar to one that is said to have been accidentally discovered in 17th century Venice by a glass blower, the glass sheets are created by heating and melting the glass, and by adding almost microscopic copper oxide crystals during the heating process. As the sheet begins to cool, the copper crystals saturate into the blue glass and eventually exude a coppery-silver shimmer that looks like the twinkling starry night sky. Van Gogh would approve.
The glass sheets then need to be cut into orbs to fit atop the extra-thin solid silver dial. Once cut, they need to be carefully polished – with the polishers taking care not to accidentally rub a copper fleck out of its space, which could leave a tiny hole in the flat dial. Finally, the aventurine glass is glued onto the silver dial. The rhodium finished white gold applied markers and hands are added, and the alluring look comes together seamlessly.
In all, the making of this dial is a tricky, time-consuming process. However, just like the night sky brightly lit by the stars, the end result is a magnificent view that draws the wearer in and lulls one into a state of tranquillity and wonder – even if only for a few moments. While the pictures are wonderful, they just don't do this watch justice.
Because A. Lange & Söhne is adept at offering the full package, all of this elegance is simply not enough. The brand equips this new Saxonia Thin Copper-Blue Dial watch with a 167 part manually-wound movement that is finished to perfection. Caliber L093.1 measures 2.9mm in thickness thanks to a flat mainspring barrel that still provides 72 hours of power reserve. In typical A. Lange & Söhne style, the movement includes a lever escapement, in-house-made hairspring, hand-engraved balance cock, precision beat-adjusted system, whiplash spring and much more. Finished with a rich blue alligator strap, this personal "voyage into space" watch retails for USD 22,000. More details on www.alange-soehne.com.
---
This article has been written by Roberta Naas, founder of A Timely Perspective; and author of six books on watches.
https://monochrome-watches.com/a-lange-sohne-saxonia-thin-copper-blue-dial/