In-Depth
The A. Lange & Söhne 1815 Rattrapante Honeygold
Lange's first stand-alone split-seconds chronograph is a superb homage to founder F. A. Lange.
Today, we'll review a special watch… Sure, it looks stunning, but there's far more to this watch than its pretty face. The 1815 Rattrapante Honeygold represents many things. First of all, it's always a pleasure to see an A. Lange & Söhne made of 18k Honeygold, the brand's proprietary gold alloy, always reserved for special occasions. Second, this watch celebrates the founder of both the watchmaking industry in Glashütte and the Lange brand. Finally, and this is hard to believe after so many watches with a chronograph function, but this is the first stand-alone split-seconds chronograph of A. Lange & Söhne. Superbly executed and quite spectacular… Let's dive into the details that make this 1815 Rattrapante Honeygold a pretty special watch. 
Homage to F.A. Lange and to 175 years of watchmaking in Glashütte
The 1815 Rattrapante Honeygold is part of an important trilogy of watches for the brand, all executed in the same proprietary gold alloy and all bearing the "Homage to F.A. Lange" appellation. Composed of the present 1815 Rattrapante Honeygold, the Tourbograph Perpetual Honeygold and this 1815 Thin Honeygold, all three models hail from the 1815 family, a collection of watches that celebrate the birth year of founder Ferdinand Adolph Lange.
This year is the 175th anniversary of the establishment of the watchmaking industry in the small town (almost a village) of Glashütte, near Dresden, Saxony. While several brands from this region are celebrating this jubilee – for instance, Nomos – this has a double meaning for A. Lange & Söhne. Indeed, on 7 December 1845, Ferdinand Adolph Lange founded his pocket watch workshop in Glashütte. Thus, not only it is a celebration for the whole Saxon watch industry, but an even more special one for Lange, whose founder also laid the foundations of Germany's venerable precision watchmaking industry.
His entrepreneurial project of bringing an unheard-of industry to an impoverished region close to Dresden was a gamble. The mountains of Glashütte, once a source of iron ore, were depleted and unemployment was rampant. With no trained watchmakers, F.A. Lange's gamble paid off thanks to his incorporation of novel production techniques, new precision measuring instruments and his obsession with consistent high quality.  Instead of entrusting one pocket watch to one watchmaker, he got his employees to specialise in different processes (division of labour) creating a veritable production line.
The brand A. Lange & Söhne was revived by Walter Lange (who passed away in 2017), a direct descendant of F.A. Lange, in 1990 together with Günter Blümlein. The first collection was presented in 1994, with four watches: Lange 1, Saxonia, Arkade and Tourbillon "Pour le Mérite." As such, ALS is still a relatively young brand, which has, however, achieved so much in a short period of time.
The chronograph, a Lange speciality
The first collection of A. Lange & Söhne (1994) didn't include a chronograph. But it only took five years for the brand to introduce what would become one of the definitive movements in this field: the Datograph. We have to remember two things. First of all, in 1999 very few brands had their own, in-house developed and produced chronograph movement. Even giants like Patek and Vacheron relied on externally sourced calibres. Second, not only did Lange produce a stunning movement (a movement that became a reference for the rest of the industry), but it produced it while the brand was still in its infancy, making the feat even more impressive. From this moment onwards, the brand would be regarded as a major actor on the "chronograph scene".
The pace picked up and by 2004, the brand had produced another chronograph masterpiece, the Double-Split watch – also regarded as a watch with one of the most impressive movements currently available. While the rattrapante is, without a doubt, one of the most complex mechanisms that watchmaking can produce, ALS pushed the concept even further by splitting both the seconds and the minutes – and add to that a flyback functionality. The brand even outdid itself with the spectacular, mightier-than-mighty Triple Split of 2018, an insanely complex chronograph with three rattrapante functions capable of splitting seconds, minutes and hours. In between, there have been "simpler" chronographs like this 1815 Flyback model and more daring combinations like the Datograph Perpetual Tourbillon and the extraordinary 1815 Rattrapante Perpetual Calendar launched in 2013. And what about the Tourbograph Perpetual, with a combination of a rattrapante chronograph, a one-minute tourbillon, a perpetual calendar and a fusée-and-chain transmission? There can be no doubt whatsoever that A. Lange & Söhne is one of the masters of the chronograph.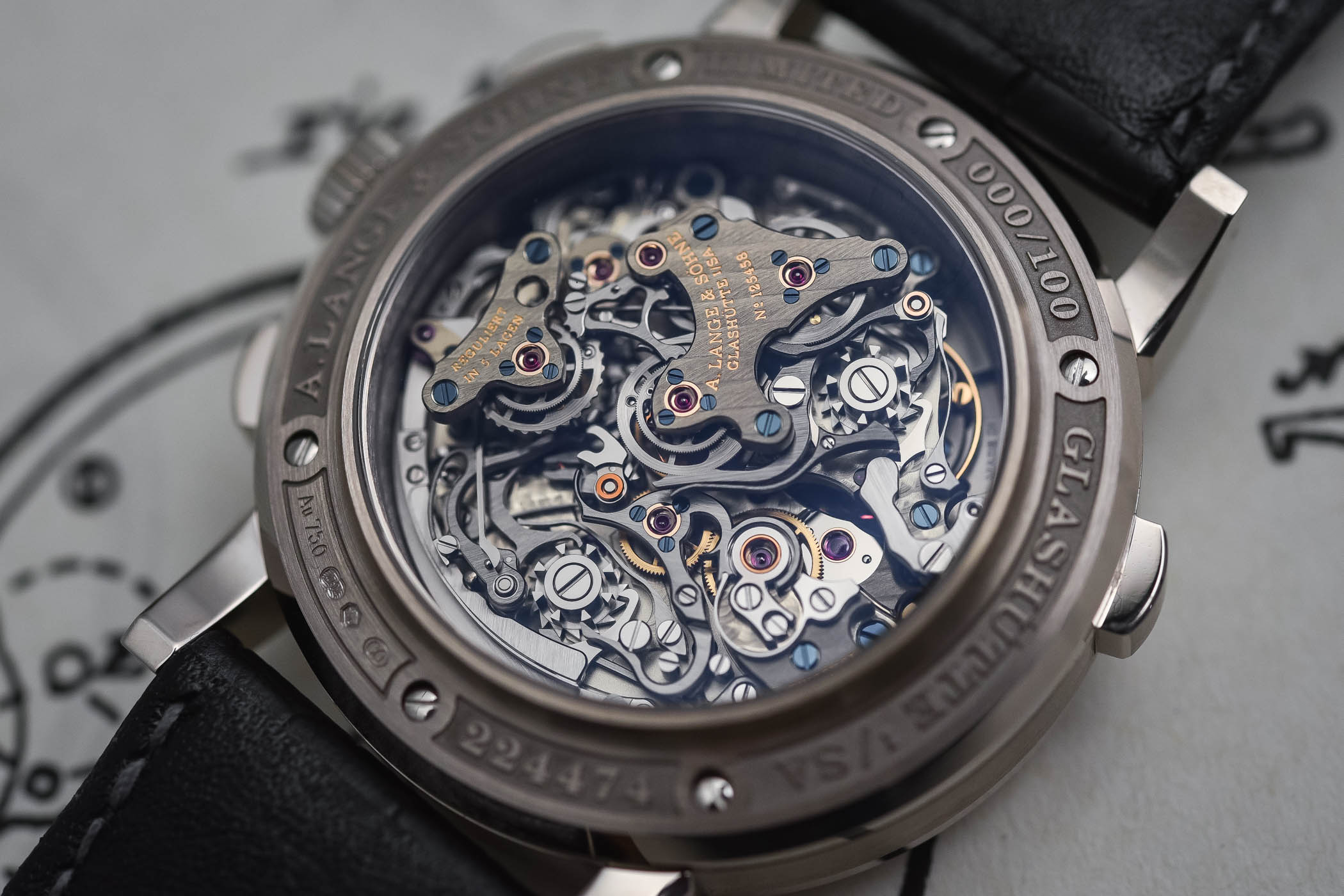 With this watch, ALS finally enters the market for the oh-so-essential classic hand-wound rattrapante
Still, one link was missing in this long chain of impressive watches, a classic combination that Patek, for instance, had long produced; the classic hand-wound rattrapante chronograph. Strangely enough, A. Lange & Söhne never produced this. It offered double or triple rattrapante or a rattrapante with perpetual calendar… but never before a stand-alone rattrapante chronograph. Problem solved, as this new 1815 Rattrapante Honeygold not only celebrates an important step in the brand's history, but it also marks the debut of a brand new chronograph watch for ALS.
The 1815 Rattrapante Honeygold
No additional complication, no distraction, no flyback, no outsized date or power reserve, just the rattrapante… The 1815 Rattrapante Honeygold is the essence of the high-end split-seconds chronograph, a style that Patek has long mastered, but now with a (very) serious contender on the scene. And when you know what Lange is capable of when it comes to chronographs, you know it's going to be good.
In effect, we're looking at a new watch, but not an entirely unprecedented watch either. Let me explain. It could be seen as 1) an upgraded version of the 1815 Chronograph, with an additional split-seconds function or 2) a simplified, more focused version of the 1815 Rattrapante Perpetual Calendar minus its quantième module. Both statements are essentially true, but not for the same reasons. Visually speaking, the new 1815 Rattrapante shares a lot with the 1815 Chronograph, both refined, clean and very focused watches (no additional complication). Still, the movement of the latter is a simplified version of the Datograph (minus date and power reserve but still with its flyback), which is not the case of the 1815 Rattrapante. Mechanically speaking, this new model is a simplified version of the already existing 1815 Rattrapante Perpetual Calendar, with a base movement that is different from the Datograph. Here, the base movement is larger and the position of the sub-dials are different.
Starting with the case and the overall design, there's a clear resemblance to the 1815 Chronograph. The overall feeling is one of purity and a focus on a single complication, the rattrapante chronograph. Essentially, we find most traits of the simpler chronograph version, and of the classic 1815 collection. The case features a robust concave bezel and signature Lange lugs. The case is mostly polished, with brushed accents on the caseband and rounded rectangular pushers. Elements that are well known to Lange enthusiasts. The dimensions are slightly different though, mostly because the movement inside is larger and so is the space between the sub-counters. The case measures 41.2mm in diameter, a respectable but still easily wearable size, with a fairly well-controlled height of 12.6mm.
For the occasion of the 175th anniversary of watchmaking in Glashütte, the case is made from Lange's proprietary gold alloy named "Honeygold". Known to be very hard to machine (hence its exclusivity) but also very resistant to wear and tear, Honeygold is characterised by a very subtle tone, lighter and less saturated than yellow or rose gold. This results in a refined, very elegant, sophisticated and relatively discreet watch. However, the toned-down attire is balanced by an expressive dial.
Often executed with silver-plated or black galvanized dials (for white metals), A. Lange & Söhne also knows how to break with the austere German style by adding more charm, more warmth. Such is the case of the 1815 Rattrapante Honeygold, which is equipped with a dial that somehow breaks the norm. Here, this watch has far more "glamour".
The dial of the 1815 Rattrapante Honeygold is classically executed in solid silver with a black galvanized treatment. However, while this is something we've seen on the 1815 Chronograph, the brand has chosen a "gilt dial" with all the inscriptions, tracks and numerals executed in a golden colour, with matching pink gold hours and minutes hands. The important tachymeter scale is still printed on a stepped and angled inner flange, with the arched logo at 12 o'clock. The main difference with the 1815 Chronograph is the position of the sub-dials, now on a vertical line. The symmetry is reproduced horizontally with an unprecedented "Glashütte in Sachsen" mention. Note that some of the hands are pink gold (or pink gold-plated) – hours, minutes, small seconds and central seconds – and some in white gold (or rhodium-plated metal) – 30-minute counter and rattrapante hand.
Needless to explain that the combination of this subtle gold case with this charming and warm black-and-gold dial is simply striking. It certainly has a more ornamental feeling than a traditional silver-plated watch by Lange. Personally, I love this combination.
The look of this A. Lange & Söhne 1815 Rattrapante Honeygold is complemented by a dark brown alligator strap with gold prong buckle – a colour that once again adds more charm and warmth than a traditional black leather strap. And, as expected the entire habillage is executed with precision and superb attention to detail. But that's nothing new at Lange.
A calibre like a micro-city
As always with chronographs from Lange, as beautiful as the watch might be, it can hardly rival the insane visual complexity of the movement. These hand-wound chronographs have such an architectural look that you might well be tempted to wear your watch upside-down. And as you'd expect, the movement of the 1815 Rattrapante Honeygold recreates the effect of a "miniature city" – an expression credited to our founder Frank Geelen. I sometimes wish I could shrink in size and walk through the intricacies of these Lange chronographs…
The movement found in this 1815 Rattrapante Honeygold is essentially based on the existing 1815 Rattrapante Perpetual Calendar, without the quantième module on top – hence their shared names, Calibre L101, with only the reference number at the end to differentiate them. A large movement with a 32.6mm diameter, it has a classic architecture, the one you want in a high-end split-seconds chronograph, with a dual column-wheel mechanism and a horizontal clutch. Composed of 365 components, it exposes every single part of the chronograph function on top of the movement. All the levers, springs, wheels, pinions have been cleverly positioned and are held in place by small bridges, so nothing can interfere with the ballet of the chronograph.
This Calibre L101.2 is composed of multiple levels. The lower level is devoted to timekeeping and energy storage/transmission, with the regulating organ, the gear train and the barrel. A surprising touch, the movement is so complex that the balance, a part often exposed in full sight, is almost invisible here, hidden under the split-seconds module. The second level is in charge of the chronograph and is composed of multiple curved levers, springs and wheels, as well as the main column wheel located near the crown. Last, the third level is dedicated to the rattrapante mechanism, with its second column wheel, a central wheel and its "clamps" to stop the motion of the rattrapante hand.
Regarding its specifications and technical choices, the Calibre L101.2 of the 1815 Rattrapante Honeygold remains relatively traditional. Nothing wrong here, as this leads in a movement that looks absolutely stunning. For instance, a horizontal clutch is certainly a bit less precise than a vertical clutch, but the result is a movement that reveals far more of its technical parts. This calibre runs at 21,600 vibrations/hour and boasts a comfortable 58-hour power reserve.
Finally, there's the superlative Lange decoration. For the occasion of this "Homage to F. A. Lange" collection, the brand has decided to display a new decoration inspired by finishes developed by Ferdinand Adolph Lange to make his calibres inimitable. The raised German silver bridges and the mainplate are golden and display a granular surface reminiscent of F. A. Lange's category 1A historic pocket watches. All the visible moving parts of the rattrapante chronograph – levers, springs and jumpers – are decorated with straight graining while the chamfers are polished. Finally, a new style has been developed for the free-hand engravings on the balance cock and the chronograph bridge, as well as the inscriptions on the bridges, which are picked out with black rhodium.
Thoughts
There's no denying the absolute beauty of this 1815 Rattrapante Honeygold… I can hardly find something that I don't love about this watch. Aesthetically, it is stunning, with a superb combination of colours. The contrast between the subtle tone of Honeygold and the rich, warm black dial is delightful – and less austere than classic colours used in German watchmaking. Proportions are nice (even though a tad large) and finishing is, as you'd expect, top-notch. And the movement itself, if not entirely new, remains one of the most spectacular chronograph calibres currently available.
Far be it for me to say that this watch is accessible – it is a very expensive piece of high horology – but it somehow feels "justified". For instance, a Patek Philippe 5370P, a watch with essentially the same architecture (a hand-wound, split-seconds chronograph) is priced EUR 100,000 more than the 1815 Rattrapante Honeygold. It has a platinum case, but Honeygold is almost as hard to machine. The dial is made of enamel and the movement is maybe a bit more innovative. But, as such, the price difference is hard to justify. So this would make the 1815 Rattrapante a fairly priced watch… almost.
The last comment that comes to my mind is about the availability of the watch itself. This edition in Honeygold is limited to 100 pieces, as a commemoration of a special event. But I wouldn't mind if A. Lange & Söhne introduced the same movement and case design in a rose or white gold watch (or in steel, if we're allowed to dream) in the near future. This would make a great addition to the permanent collection.
Availability & price
The A. Lange & Söhne 1815 Rattrapante Honeygold "Homage to F. A. Lange" is a limited edition of 100 pieces, only available from the brand's official boutiques. It retails for EUR 130,000 (with German VAT).
More details at alange-soehne.com.
https://monochrome-watches.com/a-lange-sohne-1815-rattrapante-honeygold-review-price/