Montblanc Villeret Seconde Authentique and Villeret Seconde Authentique Diamonds
Montblanc has two watch manufactures; the manufacture in Le Locle where (among others) the Nicolas Rieussec collection and its in-house movement is conceived. The other manufacture is the former Minerva manufacture, where time seems to run in a slower pace and watches are still entirely hand-made. 
It is this place, the Montblanc Manufacture in Villeret, where the Collection Villeret 1858 finds its origin. This year Montblanc introduces two new models for ladies who want the best. And that is something that the watchmakers in Villeret are very familiar with.
First is a set his and hers or "pour elle & lui" which is limited to 58 pieces and is only available as a set. Secondly there is another limited edition of 58 pieces, however this is a diamond-set ladies watch. All these timepieces, both of the set and the ladies model, are equipped with the beautiful caliber MB M62.00, a manually wound movement with small seconds.
This movement has proven its merits and is among the most beautiful crafted and finished movements on the market. Measuring 24 mm in diameter and 3.9 mm in height, it is probably the smallest movement coming from the Montblanc Manufacture in Villeret. All imaginable sorts of finish have been applied on the movement; bridges and plates are Rhodium-plated German silver with either Côte de Genève striping or circular-grained, featuring hand-chamfered edges. The going train is gold-plated, circular-grained, chamfered or just look at the small arrow-point at the swan-neck fine adjustment, just one of many stunning details!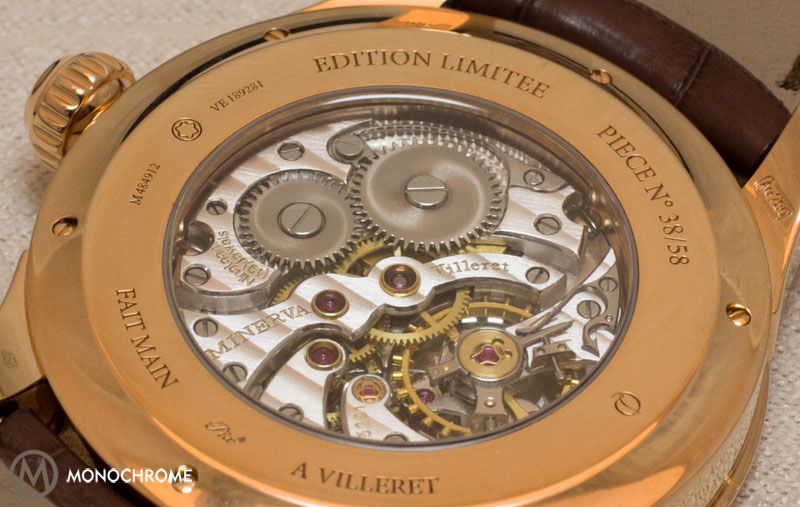 Caliber MB M62.00 comprises of 162 individual parts of which 19 jewels (hemispherical, domed and olive-cut), beating at a slow 18.000 vibrations per hour (2,5 hertz) and when fully wound it has 50 hours of autonomy. The large screwed balance measures 9.7 mm in diameter and provides 15 mg/cm2, which is a very good mass ratio. The hair spring is made in-house (!!) and comes with a Phillips terminal curve.
If you like to propose to your future wife in style or if you want to renew your wedding vows, a set like this not only looks good on the wrist. The display back shows the beautiful movement and the magnificent hand-finishing. As the engraving in the case-back rim makes clear "fait main a Villeret" meaning as much as "hand-made in Villeret".
The limited edition set Villeret Seconde Authentique "Pour Elle & Lui" comes in 18K red gold; the gent's model measures 39 mm in diameter, while the ladies model measures 36 mm, both models measure 9.6 mm in height. The crown is of course adorned with the Montblanc emblem in mother-of-pearl and both dials are mother-of-pearl "marqueterie" with red gold inlays.
Besides the set, Montblanc also introduced this ladies timepiece with a mother of pearl dial and a diamond-set bezel and crown. This lovely piece also measures a nice 36 mm in diameter and its height is just below 10 mm. This model called Seconde Authentique Diamonds is set with 144 diamonds on the bezel (total 0,93 ct) and 38 diamonds (total 0,11 ct) in the crown.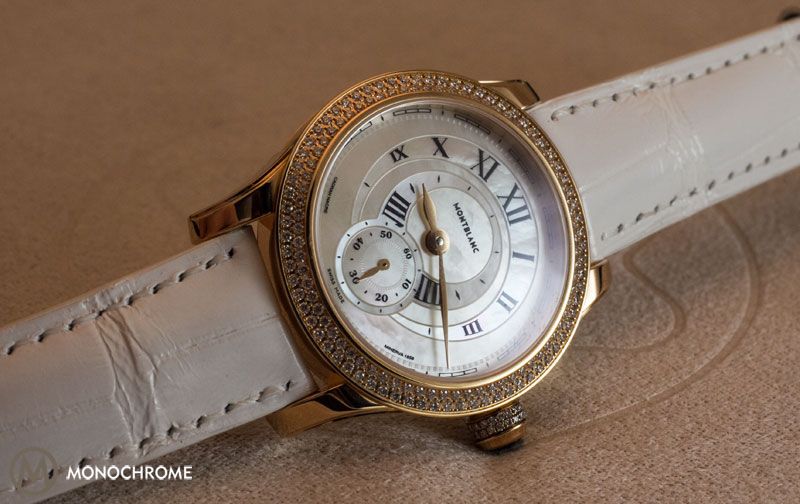 For more information, please contact your local Montblanc authorized dealer or Montblanc Boutique. On the Montblanc website (click here) you can find your nearest boutique or AD.
This article is written by Frank Geelen,  executive  editor for Monochrome Watches.
https://monochrome-watches.com/montblanc-villeret-seconde-authentique-and-villeret-seconde-authentique-diamonds/