Vianney Halter Deep Space Tourbillon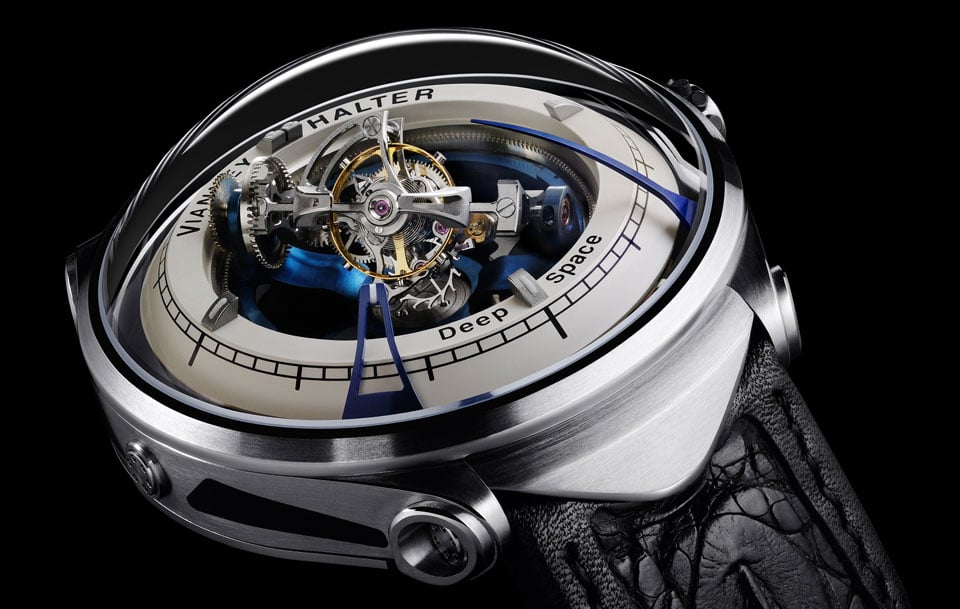 Vianney Halter just introduced his long expected new timepiece and when I saw it during Baselworld (under embargo at the time) I can easily say that this was one of the pieces that put a HUGE smile on my face. Vianney has had an interesting journey, both physically and mentally and that brought him to find inspiration in an unusual place… Star Trek and 2001, A Space Odyssey. The result is simply out of this world… the Deep Space Tourbillon.
An immense domed, spheric crystal protects the centrally placed triple axis tourbillon and also gives the wearer, and everyone around him or her, a magnificent view on that tourbillon. Around the almost space-station-like construction with the triple-axis tourbillon, rotate the hour and minute hands.
Timepieces have always accompanied those who traveled and guided them through their journeys. Just think of the marine chronometers which were being used in the 17th century, pocket watches that were crucial for trains and the development of rail roads and watches that were used by navigators on the first air planes. The new frontier is space, as captain James T. Kirk once said.
A human being in space is lost as were lost sailors at sea. For Vianney Halter the recurrent question was: "what is the ultimate time instrument that a human being shall take with him for his trip in outer space ?" The answer is the Deep Space Tourbillon. And for your purists out there, it indicates the hours and minutes in solar time, so for the time being it's better suited for telling time on earth.
The tourbillon cage – that contains the balance wheel, the anchor and the escape wheel – rotates in only 40 seconds. This is the first axis, which is installed inside a ultralight structure that rotates in 6 minutes around a second axis which is perpendicular to the one of the tourbillon cage. The whole set is suspended in a cradle that turns in the plane of the watch mainplate in 30 minutes, which is the third axis.
Technical specifications :
Name : Deep Space Tourbillon
Type : Triple Axis Central Tourbillon Wristwatch
Case Dimensions : 46 mm diameter – 10 mm thickness Overall Dimensions : 50 mm x 53 mm x 20 mm
Case material : Titanium
Crystal : 40,6 mm diameter sapphire glass with anti-refect coating.
Movement : In-house developed VH 113 Balance frequency : 21,600 v.p.h. Tourbillon cage revolution time : 40 sec Crossbar revolution time : 6 min
Cradle revolution time : 30 min.
Number of jewels : 41
Hands : special peripheral curved shape hands Winding : manual
Power Reserve : 55 hours
Strap : Hand sewn, goat leather special strap with crocodile leather inserts Buckle : Titanium folding clasp
Total weight : 90 gr.
The Vianney Halter Deep Space Tourbillon comes at a price of 187,500 CHF (before tax), which sounds like an incredibly good price for such a stunning and brilliant triple-axis tourbillon.
More info through Vianney Halter's website.
https://monochrome-watches.com/vianney-halter-deep-space-tourbillon/