5 Cool Finds – 5 Multiple Time-Zones Watches to Inspire the Traveler in you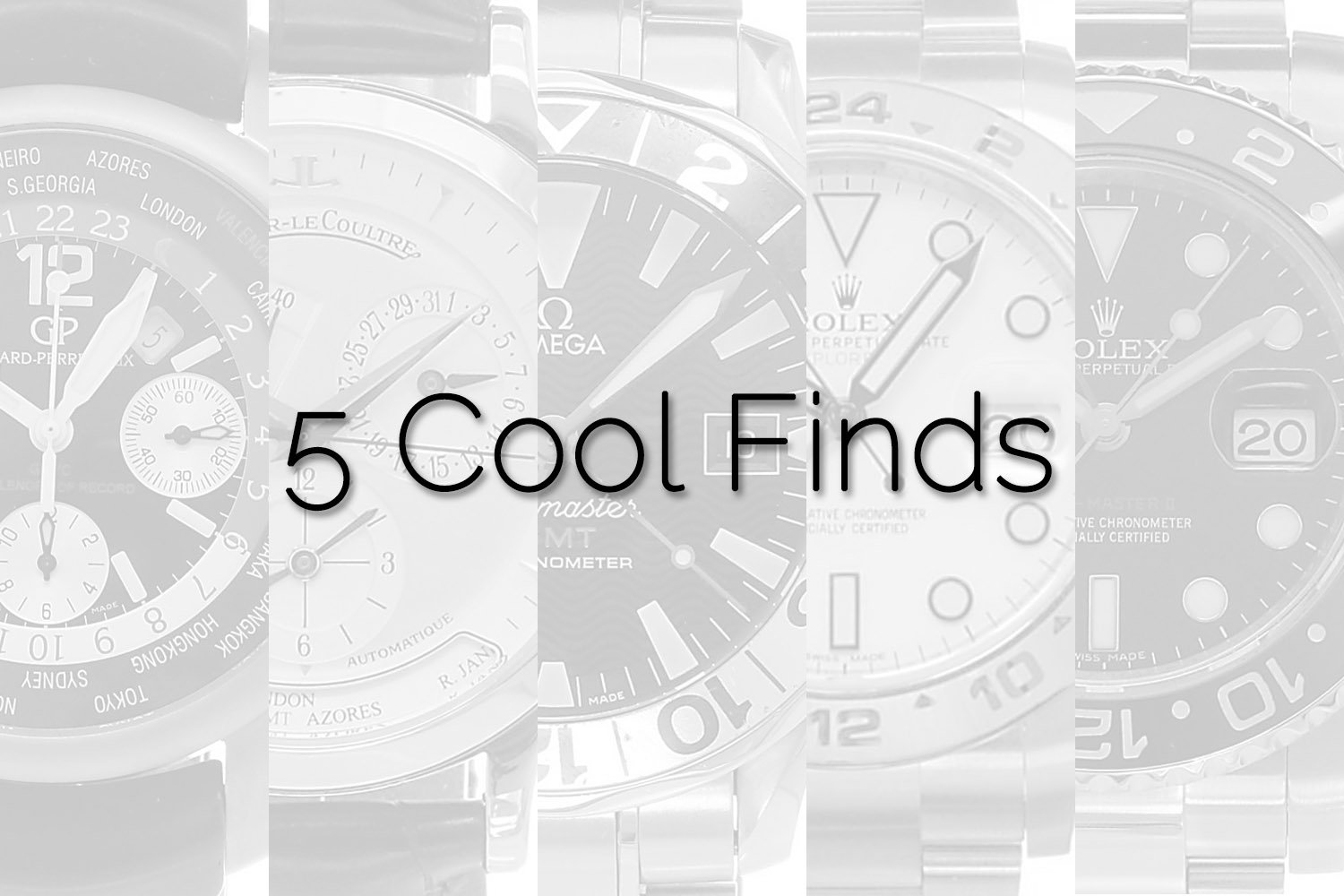 Last week's 5 Cool Finds' selection was for the pleasure, to awake the horology enthusiast in you. This week, we move to practical functions – which does not mean the watches you'll are not nice pieces… Today, we want to inspire the traveler in you, with 5 watches that will help you to keep track of time in (at least) two regions of the world. GMT, dual-time, world-timer… All of these names result in the end in watches that can be seen as the most practical pieces those days. Together with our partner Chronext, here are 5 multiple time-zones watches that will benefit the travelers that all of us are these days.
if you are a recurring reader of Monochrome, you should know the coming fact: multiple time-zones watches, whether we talk GMT, Dual-Time or World-Timer, are with no doubt the most practical type of watches we can find these days. The world has become a village and lots of us are crossing time-zones, for pleasure or business, several times a year. Traveling has become an easy hobby and/or a necessary duty. On an other level, some of us are working in an international environment, dealing with people on the other side of the planet, like if they were seated in front of you. For all of these reasons, and certainly some more, keeping track of time in another (or multiple) region of the world is today a necessity. This is why we wanted to show you today 5 watches featuring multiple time-zones displays.
Ad – Scroll to continue with article
With its dual-time sub-dial and the world-timer function, the JLC Master Geographic will help you to keep track of your beloved who stayed home and also to have an overview of the time around the entire world.
The Icon, Rolex GMT-Master II 116710LN
What would be a selection of watches focused on traveling without a GMT-Master from Rolex? This watch, in the common psyche, clearly defines what a GMT watch is, both in terms of functionality and design. Often imitated, but never equalled. The iconic Rolex GMT Master which was first released in the mid-1950s (1954 to be precise). It was designed together with Pan American Airways, to equip their crews. Popularity grew at first amongst pilots, NASA crew-members and US Air Force pilots. However, business people rapidly started to show interested in this watch, in order to keep track of a second time-zone, in an easy and practical way. Over 60 years later, this watch is still a favorite of frequent travelers who search reliability, solidity of the construction, refinement and precision.
Today, we chose to show you the latest evolution of the Rolex GMT-Master II, the Ref. 116710LN, meaning the ceramic version, with not 2 but 3 different time-zones displayed on a single dial. Because indeed, thanks to its adjustable GMT hand and its rotating bezel, you can read up to three different times on this watch. And without telling you that the ease of use is just perfect (pull the crown, move the hour hand forward or backward and this is it…). The Rolex GMT-Master II 116710LN is superbly crafted, its black dial and bezel hyper-legible, its look is timeless, its 40mm case will fit everyone… it's a real safe bet that will never disappoint – and that will keep its value for decades. Listed here (box, papers).
The sporty rollie, the Explorer II ref. 216570
Without being less of an icon than the GMT-Master, the Rolex Explorer II can be seen as another type of watch. All is defined by its name. It has pioneer DNA in its stainless steel case. However, this does not prevent this watch to be a great traveler's piece too, even if its 24-hour hand was not meant to be used as a GMT hand at first. Indeed, this watch was created for speleologists, volcanologists and polar explorers to keep track of the distinction between day and night-time, into environments where darkness reigns. But this is when the orange hand is used as a day-and-night indication. On the latest evolution of this watch, the ref. 216570, the 24-hour hand can be adjusted and can help you to keep track of the home-time, while the normal "Mercedes" hour hand indicates your local time.
The Rolex Explorer II can be seen as the sports watch of the collection, wits its large case (42mm), its bold hands, its colored accents and an overall toolish look. And this is why we encourage you to go for the white dial version, just to mark the difference with all the other black-dial Rollies. This watch will definitely fit the adventurers and sportive men, with its robust case and daring look. And of course, this goes along with the legendary quality and precision of all Rolex watches. The example here is like new, with box, papers and warranty, and listed here.
The elegant one, the Jaeger-LeCoultre Master Control Geographic
Well, multiple time-zones watches doesn't only mean Rolex or sports watches. Thankfully! This can also lead to a very elegant, complex and horologically interesting watch, with enough complications to please the more exigent of us. So, what if you want to have a dual-time display that can be easily adjusted regarding a specific city – Instead of searching for the right time when you arrive in a certain city (we all have this problem: how many hours difference, and minus or plus…). What if your watch could adjust easily by just pointing to the city you just landed in? That's exactly what you can do with the Jaeger-LeCoultre Master Control Geographic, and with a properly elegant watch, which could fit a tailored suit.
The Jaeger-LeCoultre Master Control Geographic we have for you today is a watch that measures a nice 38mm – a perfect size, which can be worn under a cuff, but not too small either, so wearing it during holidays or weekends is highly possible. Furthermore, its dial has a complex, yet balanced display, showing the local time (central hands), the date, the power reserve, a discreet 24-hours indicator and, central subject of the day, the cities and a dual-time zone (home time when traveling). When at destination, just turn the crown at 10 and point the disc at 6 to the city (or nearest city) where you just arrived. The rest will follow. Easy, convenient, mechanically interesting. This elegant and complex watch is listed here, for a reasonable price.
The all-in-one, the Girard-Perregaux Titanium WW.TC
This watch is an all-in-one, as it comes with all the necessary features of a traveler and a sportsman. First, it is a world timer, which means that it will be able to display the time of all the 24 time-zones around the world at once. Then, it will give you an idea if it's day or night in the 24 main cities. This is extremely practical if you work in international environment – imagine you're a trader, working on all the main financial places. Here you can easily know what time it is in Tokyo, London, Paris and New-York. You'll never miss an opportunity (actually, such watches should be part of trader's gear, next the Bloomberg terminal…).
Furthermore, that's not all with this Girard-Perregaux Titanium WW.TC. Alongside the multiple time-zones, you'll also enjoy a proper sports watch. Light (titanium), large (43mm) but comfortable, sporty and colorful, with a rubber bracelet, water resistant enough (100m). This watch can withstand everything. And it is also a chronograph, with date, with in-house movement, from a great manufacture… Stunning package, which is very, very well priced. Listed here.
The other icon, the Omega Seamaster 300m GMT 50th Anniversary
In terms of GMT watches, we should not only focus on Rolex… There are watches around that are al least as iconic and certainly as desirable. As a strong contender to the Rolex GMT-Master II, we have Omega, with the GMT version of its emblematic Seamaster 300m, a watch that dearly doesn't need to be introduced. The edition we have here is a special version, for the 50th anniversary of the model. This watch uses the same kind of dial as the old 1960s Seamaster 300, some glaive inspired by that same model and a wave pattern on the dial to remind the nautical theme.
Alongside being a GMT, this Seamaster 300m GMT 50th anniversary is also a proper dive watch, with 300m water resistance and a solid case bracelet combination. Practical if you travel to Honolulu… The GMT function is here also well-thought, with the ability to display 3 time-zones, just like the competition – local time with central hands, home time with the red GMT hand and a third one by rotating the bezel. This iconic and timeless watch, from a very famous manufacture, is listed here and for a very decent price.
---
Chronext is a London-based online marketplace for buying, selling, and servicing of luxury watches – and here, online goes together with the same security and service as any high-end boutique (for more details – and the possibility to win a 2016 Rolex Explorer – please look here). For more watches for sale, keep an eye on Chronext. Everyday, some new items are listed.
https://monochrome-watches.com/5-cool-finds-chronext-5-gmt-watches/